Post Menu and Details.

Words: 2520

Reading time: ~10 minutes
We lose our valuable data, whether it is damage to your computer, data breach, or accidental deletion, and it is usually an overwhelming situation. Whether the files lost contain sensitive personal information, valuable photos, or data related to your small business, the loss can be devastating. However, your data should not be lost, thanks to the technology company involved in data recovery services such as EaseUS Data Recovery Wizard specialize in recovering files that most people believe are beyond recovery.
All you need to know about Data Recovery
Data recovery is the process of restoring data from media that may not be working properly. There may be a problem with the hard drive or another component of the storage media. It would be great if we could decipher the nature of the problem with the naked eye for ourselves. However, our eyes and technological knowledge have their own limits.
Data recovery is a highly specialized field that can solve most data loss problems. Data loss can occur in strange and mysterious ways, and each data loss can be different from one another. Because of these variances, the cost of data recovery in your pocket can be high or low.
What can Data Recovery software do?
Data recovery software has proven to be very useful in many situations while it has been completely useless in others. The best file recovery apps are reviewed to make it easy to recover files from traditional rotating hard drives, pen drives, SD cards, and other portable storage types including your phone. This data recovery software can also recover some or all of the data that you would otherwise not be able to access on a faulty CD or DVD.
The data recovery software is most useful when you accidentally formatted a USB drive or media card without thinking of restoring the files already stored there, or when you accidentally deleted files. from your phone. It's the kind of accident that can happen to anyone.
Advanced users are often overwhelmed with emptying the Recycle Bin and want to restore files that they didn't want to delete forever. If you are using a traditional rotating hard drive, the best recovery software can recover these lost files. Some advanced users even accidentally deleted entire hard drive partitions while doing their hard drive management. With a traditional spinning hard drive, the recovery software can bring you back in one piece.
Features
Some offer the option of creating a disk image (or full clone) of a drive. So you can try restoring files from the image or cloning it instead of the drive itself. This is an important feature when trying to recover files from a failed physical drive and it can still fail if your recovery software tries to read from it.
Some data recovery apps also include the opposite of permanent deletion of file recovery files. If you want to make sure that no one can get your data back, you can tell these apps to overwrite the data with enough random bytes so that the original data is no longer readable. Remember that government agencies have tools that can recover data from almost anything. However, these apps make it impossible for even skilled thieves to recover private information from stolen or discarded hard drives.
In this article, we will be reviewing EaseUS Data Recovery Wizard which is one of the best data recovery software available in the market today.
Review: EaseUS Data Recovery Wizard
The EaseUS Data Recovery Wizard is a comprehensive data recovery software that will impress even IT professionals who want to improve their lead. It would beat the competition except for a few minor flaws. EaseUS Data Recovery offers a comprehensive suite of data utilities that are both powerful enough to meet the needs of IT professionals and simple enough for all users. In this review, we take a look at the data recovery solution, the data recovery wizard.
This software is available for Windows and Mac. EaseUS Data Recovery Wizard will help you recover files that have been accidentally deleted as well as files deleted by programs. Advanced users will also appreciate the ability to recover data from servers and RAID storage.
Overall, the user experience is one of the best of all the recovery utilities we have tested, which makes it one of the best in our roundup of the best data recovery software for 2021. There is definitely a professional grade to this software whose services are easily geared towards organizations. However, the ease of use and features make it a very solid option for home users too.
EaseUS aims to ensure that you can never lose your data as it is stored in the cloud in an emergency.
EaseUS Data Recovery Wizard Features

The feature list looks impressive, missing some notable things. Some of them are available through separate software packages available in the EaseUS Data Recovery Wizard. These features include the ability to clone your hard drive and create a bootable disc or pen drive if a computer won't boot at all.
EaseUS Data Recovery Wizard doesn't offer any other features at all including the ability to add new recoverable file types and recover data from optical storage (CD, DVD).
For the supported file types, EaseUS Data Recovery Wizard covers all of the basics:
Documents: Word, Excel, PowerPoint, PDF
Images: JPEG, PNG, RAW, Photoshop, Illustrator
Audio: MP3, WAV, AIFF, AAC, Ogg
Videos: MPEG-4, QuickTime, AVI, WMV
Archives: Zip, Gzip, RAR, Stuffit
Supported file systems include:
Windows: FAT, NTFS
Mac: HFS, HFS+
Removable Storage: ExFat
Performance of EaseUS Data Recovery Wizard
To test the performance of EaseUS Data Recovery Wizard, some basic recovery tests were performed during the testing process, i.e. basic deleted file recovery tests were performed on a 518 GB NTFS formatted partition with 379 GB of used space and also for this test three test files were taken created and deleted: a Word document, a JPG file, and an MP4 video. We also tested restoring a 10 GB test partition that we created, loaded with data, and deleted.
The result shows that the EaseUS Data Recovery Wizard's quick scan runs in seconds. Although the results are limited as the scan only seems to check whether recently deleted content can be recovered. Most quick scans also create entire directory structures of intact files.
The EaseUS Data Recovery Wizard is different and means that the EaseUS Data Recovery Wizard has taken a different approach to create its fast scanning algorithm. The real test of a data recovery tool's accuracy is its deep scan results and deep scan, which were done in less than two hours (which is faster than average) and it still returned everything we were looking for to have.
Customer service and support team of EaseUS Data Recovery Wizard
EaseUS Data Recovery Wizard is possibly the best data recovery tool in terms of media. The tool offers a comprehensive knowledge base with a downloadable user guide, searchable support articles, and video tutorials. The biggest plus, however, is the inclusion of live chat support.
This is a benefit that you won't find with low-end data recovery services. The live chat, available during office hours, puts you in touch with a service representative almost immediately. Outside business hours, you can send an email to EaseUS Data Recovery Wizard. The service promises to get back to you within two hours, and we've found that they keep that promise even on weekends.
Data Recovery Pricing
For the average Windows user, the best EaseUS software is Data Recovery Wizard Pro for Windows + WinPE.

EaseUS Data Recovery Wizard offers trial versions of its software that can restore up to 2 GB of data on PC and Mac.
A test run can be used to determine if your lost data can be recovered before purchasing the software. As this is a trial version, EaseUS '30-day refund policy does not apply to non-technical circumstances.
Windows and Mac users can choose a cheaper option that does not include a recovery CD. EaseUS Data Recovery Wizard also offers recovery software for iPhones and Android devices.
How to Use EaseUS Data Recovery Wizard
The EaseUS Data Recovery Wizard is very easy to install and use. In fact, the program offers a wizard-driven interface that even beginners can use to restore photos, videos, music files, and documents in a snap.
The following content provides a step-by-step guide on how to use the data recovery software, including downloading and installing it and completing the data recovery process smoothly. Let us begin!
Download & Install EaseUS Data Recovery Wizard
The downloaded file is called "drw_trial.exe". make you click the downloaded file twice to start the installation. A Welcome dialog box will ask if you want to continue. Click on Continue ".
The easiest way to create the next windows is to use the default installation settings. So, accept the license agreement and click "Next" in all installation windows. When the Select Additional Tasks window appears, check to Create Desktop Icon and continue with the installation.
The program is then installed and also ready to use by the user. The icon is on the desktop. It is available for all data loss situations, so you can try to recover deleted files, recover formatted, corrupted, inaccessible, or lost data. Now let's get the files back.
Scan & Recover Lost Data
Step 1: Choose a location to scan.
Launch the EaseUS Data Recovery Wizard, hover over the partition, external hard drive, USB drive, or memory card that you lost data, then click Scan.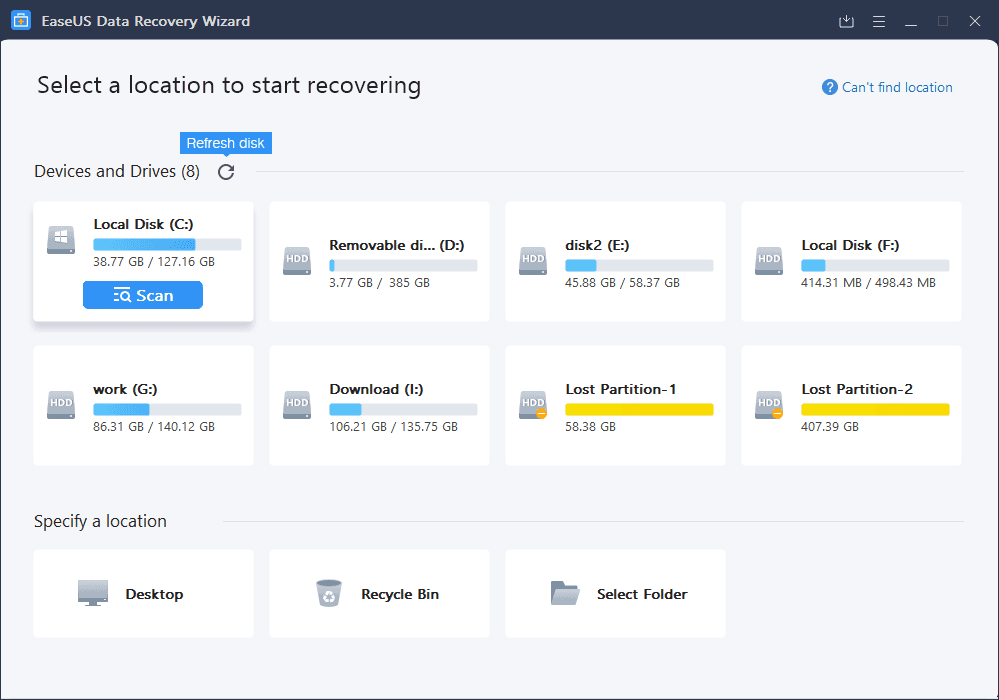 Step 2: Select the files to be restored.
Wait for the scan to start, once the scanning is completed, locate the files that you want to restore. To find data faster, use the search bar or filter to search for specific files. To review a file, double-click the item to preview its contents.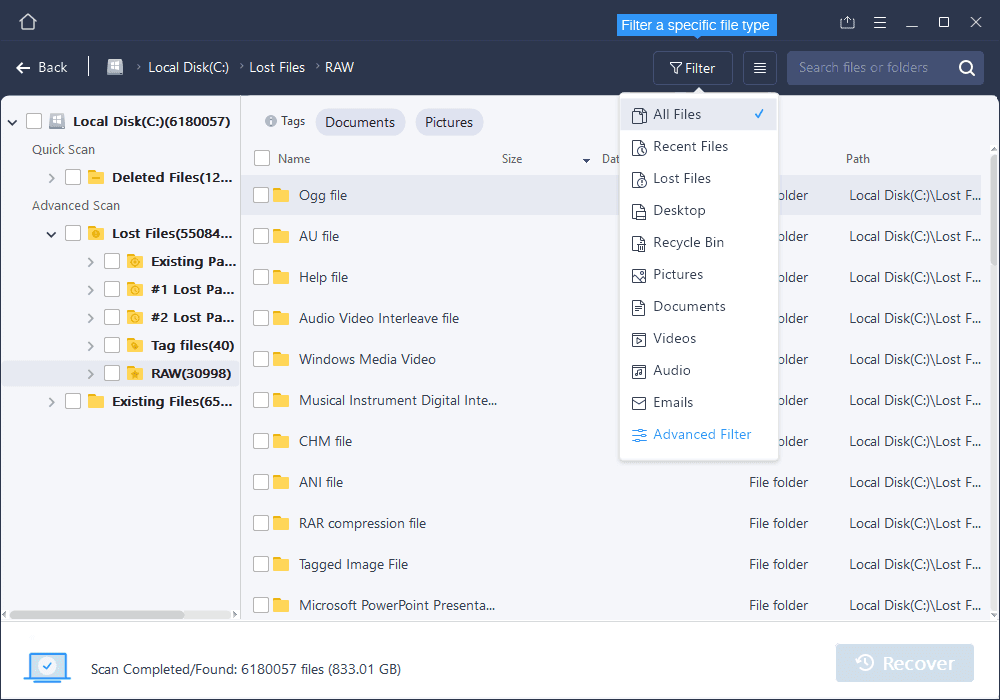 Step 3: Recover Lost Data.
Click Restore and choose a location on a different drive to save the files.
The files found are displayed as a list but it is important to know that it can also be switched to the thumbnail display mode. For each file, the name, size, file type, modification time, creation time, date of last access, attribute, and status are displayed. And of course, you can see what you can actually get when you are a registered user. By saving you can unlock the ability to restore an unlimited number of files and save them in a location of your choice.
As you can see, using the data recovery wizard to restore files is very easy and doesn't require any special skills or technical knowledge. If you have any difficulty, you can use the help system, which is accessible by clicking Help at the top of the interface. We have used a simple situation here as an example. With the same simplicity, you can recover files even in more severe situations such as: For example, if the partition has been formatted and you want to restore the formatted partition.
Photo Recovery with EaseUS Data Recovery Wizard
Accidentally clicked "Delete All" instead of deleting a single picture from a camera or computer? Sometimes, even after emptying the recycle bin, there is permanent data loss. If something like this should happen, how can you perform photo recovery on it? Try to look for a photo recovery tool to recover lost, deleted, or formatted photos from a computer, laptop, a removable disk, pen drive, or SD card for a thorough and in-depth analysis.
All thanks to the EaseUS Data Recovery Wizard with its comprehensive photo recovery feature that allows you to recover lost photos in almost any lost data scenario.
How to recover photos with EaseUS Data Recovery Wizard photo recovery software
Step 1: Choose the location and start the scanning process.
Launch the EaseUS Data Recovery Wizard, scroll around the partition or device you would like to recover pictures from then click Scan.
Step 2: Choose the photos you want to recover.
Wait for the scanning to finish, then choose the photos that you want to recover. To find items more quickly, click Filters> Images, or search for images using the search bar.
Step 3: recover photos.
Click "Recover" and choose a location on another drive or device to save the recovered pictures.
Key features in EaseUS photo recovery:
EaseUS photo recovery supports 1000+ types of file formats.
Photo recovery supports a Mac OS X & macOS version as well.
EaseUS photo recovery provides support to a wide range of image file format recovery including the RAW photo.
Photo recovery supports photo recovery on all-brand digital cameras, memory cards, HDD, SSD, USB stick, pen drive, GoPro, flying drones, etc.
EaseUS photo recovery supports image recovery after deletion, quick formatting, camera power outage. OS crash, SD card corruption, the drive's not accessible, virus, the file system becomes RAW, etc.
It recovers but not limited to images, it supports all existing file types like videos, audio files, emails, Microsoft Word, Excel, PowerPoint, Adobe files, texts, Outlook PST.
EaseUS Data Recovery Wizard FAQs
---
How is data recovery done?
When a file is deleted from your hard drive, it never really goes away. Operating systems typically manage their files using specific markers that mark the beginning and end of the item on the hard drive. When a file is deleted, these flags change from 1 to 0, making them unreadable and setting the file's space as reusable.
As long as the data is not overwritten with something new, this old file still exists and can be restored. If a file is partially overwritten, only part of the file can be recovered. Hard drive recovery solutions find these files, collect them, and mark them as recoverable.
Is there a difference in data recovery for desktop and laptop hard drives?
Because of the different sizes of hard drives, laptops and desktops use the same types of hard drives. If the problem affecting your hard drive is software, there is no difference between the two types of drives. If the problem is mechanical, the only difference is the tools used and the space a technician needs to work with the physical components.
Are our data recovery services safe?
Giving a stranger access to your hard drive and files can be a daunting proposition for many. However, if you are looking for a hard drive recovery service, see the privacy policy. A good company is committed to ensuring that each of its employees goes through background checks and training in handling sensitive data. The company's facilities should also be secure. And commit to regular audits of its privacy efforts.
Why is data recovery important?
Losing an important file, whether due to a system failure or simply human error. Can be extremely damaging for any small business. Without the ability to restore the file, any deletion becomes permanent.
How long does data recovery take?
several factors determine the time it takes some data/file to be recovered. If you are only recovering a handful of files, the size of each file matters a lot. The larger the file, the longer it takes to retrieve it. As your data is usually spread across the drive rather than being stored in a single block. The health and size of the hard drive are also important as more capacity means more sectors to scan. For the best chance of recovering deleted or damaged files. Expect a waiting period of at least a few days (up to a few weeks for major hardware problems).
Thank you for reading!
---