Post Menu and Details.

Words: 2029

Reading time: ~8 minutes
Looking for Best Free Android Antivirus Apps in 2021? Let's discuss the ultimate features of the free Android Antivirus as well as the product offering  If you think viruses only affect Windows laptops and PCs, you are wrong. In fact, malware attacks on Android rapidly growing at an alarming rate.
Cybercriminals are finding ever more inventive ways to hack your devices and steal your personal identity, money, and confidential information.
The good news is that installing a top-notch Android antivirus app on your Android phone or tablet will go a long way in preventing various internet threats from approaching your device.
Why I needed Android Antivirus Apps?
It is important to know that various cybersecurity companies around the world have developed a mobile antivirus app. There is a high risk of knowing which to choose from the thousands of apps in the App Store. Additionally, there is a risk of random Android apps being downloaded (which you shouldn't!).
The biggest problem is that a lot of cybersecurity companies just want to make money – they don't want to. not giving away something that works for free or for profit.
Many Android users have asked this question in general: Why do I need antivirus for my phone?
The following people who fall into these categories are likely to need antivirus software.
if you are frequently installing or downloading Android apps from a third-party website from your device.
if you are browsing or downloading files from unsecured websites.
You are using an outdated smartphone or a device with no regular updates from the device manufacturer.
if you are using a rooted Android device.
if you frequently transfer different types of files between unknown devices like other smartphones or computers to your Android device.
This article will make available a complying list of the Best free Android antivirus apps in the app store (i.e. Google store). The following app is selected based on the following:
Features:  Even though some advanced features require a subscription plan, this article is created to discuss all of the important features of the best antivirus apps that are available for free to Android users.
Efficient: Each of these apps has been tested by different critics and the only recommended ones in this article is simple, bug-free, and won't slow down your device anytime.
Highly Secure: The various antivirus recommended in this article are verified by many critics. Android antivirus apps from reputable cybersecurity brands were tested individually and also paired against each other in the line with our extensive testing procedures to guarantee they provide high-quality security.
Absolutely free Antivirus and also companies that offer free trials are part of the features used in our selection.
Here are the following best free Android antivirus apps:
Bitdefender Antivirus
This is the overall best antivirus app available for free at the google store. Bitdefender Antivirus Free will completely protect your Android device and tablets from malware such as including viruses, spyware, and ransomware. Using Bitdefender Antivirus Free is very easy since it has an amazing user interface.
Once the app is launched, tap the Scan button to start the virus scanner. The great thing about this antivirus app is you don't get to scan everyday t get it started as it comes with an Autopilot feature which automatically scans all of your new apps once it is downloaded in real-time.
One of the CONs of the Bitdefender free app is, it doesn't include anti-theft, account security, or safe browsing tools but then it is still regarded as the best free Android antivirus app because it is fast, powerful and a highly secured real-time malware scanning build-up.
For advanced features, you can try Bitdefender premium mobile security for androids, this is one of the cheapest Android mobile security apps available in the google app store.
You can also claim a free 30 days trial of Bitdefender total security plan and enjoy the full features that the antivirus offers for their premium subscription during the free 30 trial period.
Bitdefender antivirus app when installed on your device does not consume battery life or resources while still providing good protection. It also won't annoy you with ads, pop-ups, or annoying notifications, and it's available completely for free.
Avira Antivirus
This Android mobile antivirus app is best known for its Privacy Protection for its users. Avira Antivirus offers on-demand real-time protection against malware for Android devices.
Privacy Protection is not the only features found on the Avira Antivirus app; it also has some privacy-related features which includes:
App Lock. Add additional security to your most private apps.
Identity Protection. Check if your email address has been stolen in a data breach.
Permissions Manager. Avira antivirus helps you to keep track of how apps access your data and information whenever you access the internet.
Other additional free features Avira Antivirus provides its user are as follows; tools to protect against loss and theft, the ability to block unwanted calls and texts, and also a virtual private network (VPN).
Avira antivirus also has some Premium features which can be accessed if you subscribed to their premium plan and it offers product service such as safe web browsing and camera protection.
Avira trusted antivirus mobile app will keep your device free from different attacks such as viruses, ransomware, and spyware. It's a great choice if you need your Personal information to remain private and are concerned about identity theft.
McAfee Mobile Security
This mobile cybersecurity company offers great features and also, they provide the best theft prevention service to their users.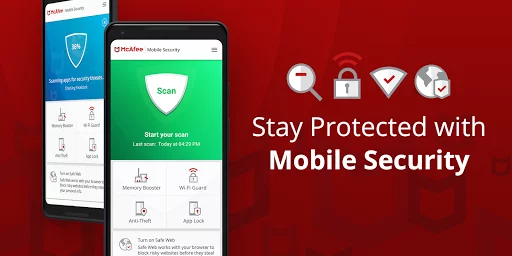 McAfee Mobile Security provides so many amazing free features such as real-time malware protection for Android users and also device optimization even though they are well known for their theft protection tools. The cybersecurity company offers some additional features to keep its users happy and it is listed below:
GPS location — If your device went missing, a GPS location finder is for describing the exact location of a lost or stolen phone.
Remote wiping — this feature is used to delete sensitive data from your phone once it gets missing or stolen.
CaptureCam — this great feature allows you to take a photo from your front-facing camera if someone is trying to break into your phone.
McAfee's premium app includes a virtual private network (VPN) and an ad blocker.
There is a suggestion that implies that the adblocker does not make it worth the upgrade because there are several free ad blockers in the market. Another great feature of McAfee is the availability of a virtual private network (VPN). This product service is available to their premium user and upgrading to the McAfee premium Android app could be a cost-effective way to get yourself a good VPN.
McAfee premium app is more expensive than its competitors' premium apps, it is also important to know that if you bundle the Android app with one of McAfee Total Premium plans (up to 10 devices across all operating systems can sign in using one account). This offer makes it one of the most cost-effective Antivirus mobile app with valuable Antivirus packages of 2021.
McAfee Mobile Security brings a power McAfee mobile antivirus security to Android devices, combining it with some helpful features to prevent loss and theft, which is regarded as an important feature if you own a high-end Android device or store some sensitive information in your mobile phone.
ESET Mobile Security and Antivirus
This mobile cybersecurity offers one of the best of safe browsing in town.
ESET Mobile Security & Antivirus provides a range of free features for android users which allows them to enjoy the following great features such as:
Locate devices via GPS.
Scan devices for viruses and other malware.
Safely browse the web.
Our favorite feature from ESET Mobile Security and Antivirus app is phishing protection.
It is no news that fake phishing websites trick people into giving up their passwords, information, and credit card details for fraudulent acts. Here is the good news to all Android users who value their vital information while shopping online, ESET anti-phishing feature integrates into the mobile browser to prevent their users from visiting these phishing websites.
If you are looking to get ESET features such as network security, security auditing, and advanced anti-theft product service, you will need to subscribe to the Powerful ESET Premium Android app.
ESET Mobile Security & Antivirus also offers product services such as effective, ad-free virus scanning and phishing protection and it is considered a good choice if you always use your mobile device to browse privacy-sensitive websites.
Kaspersky Internet Security for Android
Internet Security for Android offers good Malware Protection with anti-theft features.
Kaspersky Internet Security for Android is a free alternative for Android users, but it is enjoyed better if the user goes for the paid product which provides the essential features of a mobile antivirus, some of these includes:
Anti-theft: Provides support such as remote data wipe from your device, app locking, and also a camera capture function to its users. Kaspersky internet security even has a remote alarm, so no matter where your phone is, it won't go unnoticed.
Malware scanning: this feature Scans an Android device for viruses, erases malicious files, and scans incoming data for known threats with Kaspersky's highly-respected malware scanner. This scanner caught 100% of malware during various testing on this product service feature.
Location detection. The Find My Phone feature locks your phone and allows you to check its location on the Kaspersky website. Such service applies to the smartwatch or the Kaspersky desktop app.
This is strong antivirus software, and we also like the gimmicky ability to initiate scans from the smartwatch. However, the anti-phishing and web-filter functions that support safe browsing are only available to their premium users.
Kaspersky Internet Security for Android is highly recommended to users that are looking for strong malware detection and anti-theft protections, the premium version includes the kind of online protections that are essential for mobile cybersecurity, but the free version just doesn't offer as many features as the top programs on my list.
Free Android Antivirus Apps FAQs
---
Which Android devices will all these mobile cybersecurity apps work with?
Provided your Android device has OS KitKat 4.4 and above or its OS released starting from 2014 till present, All of the Android antivirus apps available on this list will work with any Android smartphone or tablet running
Are antivirus apps safe?
Android antivirus apps are not always safe, especially free ones but the Premium plans offered by the cybersecurity companies listed above have been tested and acknowledge as a safe, highly secured antivirus good for Scanning malware that requires deep-level access to the most sensitive parts of your device.
What kind of features can you get with an Android antivirus app?
In addition to detecting and removing malware, choosing the right free Android antivirus application can be tricky and it all depends on your needs, here is a list of recommended apps based on users need:
Keep your personal information private Avira Antivirus for privacy protection is highly recommended.
Protect your device from malicious websites, ESET mobile security offers a great free anti-phishing tool.
To Prevent loss or theft of your device McAfee offer some particularly effective anti-theft tools.
To ensure you're connected to a secured Wi-Fi network, McAfee should be highly considered among all types of mobile cybersecurity.
Most Android antivirus apps also provide features for paid/premium users. If you know that your phone contains sensitive info that you don't want it to get out through malware attacks. It's always better to go with a cost-effective premium option.
Do Android phones need antivirus?
If you wanna get your phone safe you need to choose and install Android antivirus.
Can you get a virus on your phone by visiting a website?
Yes, it is. Need to choose websites which you visited carefully. More of them have viruses.
Do I need virus protection on my Samsung phone?
Samsung like other android phones has built-in antivirus, but it not so good as other security programs. We are advised to download another Android antivirus.
How do I know if my phone has a virus?
You need to install an Android antivirus. Then open the application and choose the option "scan for viruses". After the survey you can see do you have viruses or not.
What is the best Android antivirus?
This is don't exist. Every Android antivirus. is good in their own way. We do not advertise it. You need to choose it yourself.
Download Best Free Android Antivirus Apps In 2021 mp3 file
Thank you for reading!
If you liked this post, check out these too:
---