It is hazardous to think that you don't need a security program. Also, if you only visit well-known sites and avoid shady links, download from trusted sources you still are in danger if you don't have antivirus protection on your computer. Different infectors and ransomware to worms and trojan horses, viruses can arrive hiding behind cute pictures or funny videos of dogs and cats or even wrapped in innocent looking computer program.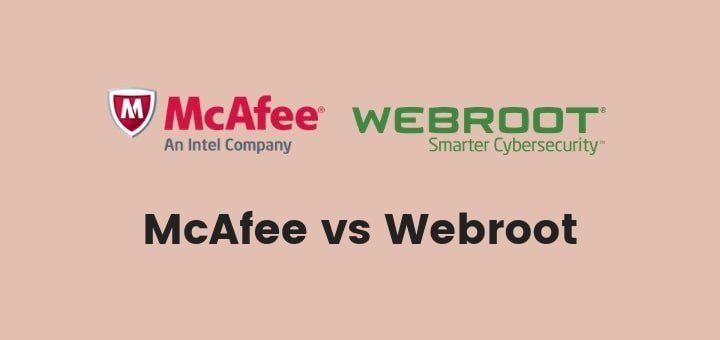 There are lots of high-quality software packages available to protect your system. A good antivirus suite is one which constantly adapts to the changing security landscape. You need a suite that can go an extra mile. McAfee Vs Webroot suite, you need to compare their different aspects like the ability to repair infections, the ability to prevent infections, as well as price before making an antivirus selection.
McAfee's Antivirus
McAfee Total Protection is the company's most popular antivirus offering. Provides top-notch malware protection and has almost all features including an advanced firewall, a file encryption tool, a password manager and a file shredder.
Also, a network manager which protects your WiFi against malware attacks, an anti-spam email filter and parental control feature to manage your kid's digital life. It warns you about dangerous websites through browser extension called Web Advisor.
McAfee LiveSafe offers 16GB of online cloud storage along with all features and utilities jammed into 'Total Security' suite.
Both McAfee Total Protection and LiveSafe are compatible with Windows, MAC, Android and ios.
Webroot Antivirus
Webroot Antivirus the company's entry-level premium antivirus which is compatible with both Windows and Mac platforms. Besides providing protection against malware threats.
It includes Network Connection Monitor to keep an eye on your WiFi network, an advanced firewall and webcam protection. Also, protects against phishing websites that try to steal your data.
Webroot's Internet Security Plus the next level offering which includes everything jammed into entry-level offering plus an advanced password manager that encrypts all usernames, passwords and credit card details stored on your computer.
Webroot's Internet Security Complete includes everything found in 'Plus' suite and also a system optimizer which improves system performance and erases browsed activity. It comes with an automatic backup utility with 25GB of online secure storage.
McAfee vs. Webroot: Which offers better malware protection?
Malware protection is the most essential component of any security software system. A security product should protect against all sort of threats such as Trojan Horses, Viruses, Worms. Malware can be classified into two types- Known Malware also called wide-spread Malware and Unknown Malware also called zero-day Malware.
Unknown Malware is more dangerous as the previous mark is available for it, thus security program relies on advanced behavioural techniques to identify and eliminate them. Known Malware is detected using a signature-matching methodology which means by comparing a suspicious file against a huge database of known Malware samples
The recent AV-Test conducted in July and August 2018. McAfee was one of the few antivirus products which received the highest 6 out of 6 ratings with its flawless performance and 100% detection rate against both types of malware samples during both months. Webroot didn't participate in AV-Test.
Real-World Protection Test conducted between February and June 2018. McAfee received the highest 'ADVANCED+' award because of its near-perfect rate of 99.6% and low false positive count.
False Positives is when security product wrongly classifies a clean file or URL as malware infected.
The Malware Protection test held in March 2018, McAfee blocked 99.95% malicious samples with 10 false detections and got the second-best award 'ADVANCED' in the test. On the other hand, Webroot didn't participate in these evaluations.
McAfee vs. Webroot: Which puts less impact on system performance?
AV Test's Performance studies the influence of a product on system performance by performing basic tasks such as launching websites, downloading applications and copying files.
McAfee was among the few who got the highest 6/6 rating from AV-Test professionals.
AV-Comparative's Performance Test measures the influence of a security product on computer performance like AV-Test's study. It assigns an impact score to each product depending on their level of impact. The lower the impact score, the lesser the influence a product has on a computer's performance.
In the Performance test held in April 2018, McAfee got the highest ADVANCED+ award due to its low impact score of 6.9 while Webroot didn't participate in any of these evaluations.
McAfee vs. Webroot: Which software offers a better user experience?
McAfee's interface has gone through major changes, the new interface is simpler and brighter with colours of white, grey and pale blue.
On top, there is a horizontal menu with five items- Home, PC Security, Identity, Privacy and Account. There will be a link to settings, alerts and tips are also there in the top-right corner of the menu. PC Security, Identity, Privacy tabs contain relevant features while account view has information about your subscription plan.
The default view, the home view shows your computer's protection status in the left rail either with a green check mark or a red warning sign. To run a full quick scan, buttons are available for it. Along with titles at the bottom to help you set up, remove browser cookies/trackers and true key password manager are also available.
At first gaze, Webroot's interface seems complicated and crowded. The information on the screen overwhelms you, the busiest interface.
A prominent, rectangular shaped section which shows the protection status. Along with the information about when the last scan took place and when the next scan is scheduled. A button to launch a quick scan is also available.
Under this section is a button that takes you to the Webroot community where you can learn more about the product. On the left different modules are arranged in a vertical manner, each module contains relevant features.
By clicking on the advanced settings button which is placed on the top-right corner of the interface, takes you to the page with all the advanced options.
McAfee vs. Webroot: Which software is more popular?
STATISTA an independent company which regularly reports on the market shareholding by leading anti-malware products. The recent report launched in August 2018, McAfee came third on the list of top antivirus products with 11.73% market share. On the other hand, Webroot takes the seventh spot with close to 7% market share.
OPSWAT a known security company trusted by HP, Simens and Cisco publishes a report on malware products and vendors. The recent report was published in November 2018 which included the information collected by OPSWAT in last six months.
The findings of OPSWAT updated in September 2018 were more or less the same as STATISTA'S.
Final Word
If you are determined to buy a product which has been around a little longer and offers near- perfect malware protection with minimal impact on system performance. Also, provides more security-related features and utility tools then choose McAfee.
On the other hand, Webroot's performance is unknown as it didn't participate in the examinations but if you want a faster suite, which offers the same strength of protection at a lower cost then choose Webroot. It understands the consumer's needs and has clearly positioned its products.
For more interesting articles, visit here!
Summary
Reviewer
Review Date
Reviewed Item
Author Rating