Surfing on the internet these days with no malware protection is like sailing in deep water without wearing a lifeboat. New ransomware and software are being developed every other day, antivirus also has to evolve with it. A reputable and trustworthy Internet Security and Antivirus software are very relevant as cyber threats like spyware, ransomware and others are targeting internet users every day.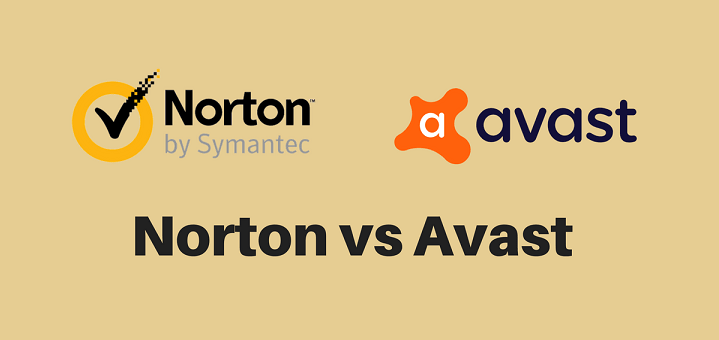 Consumers should have latest and up-to-date information about security, privacy, recovery software and other utilities which increase a user's security, privacy and device's performance. It is a tough choice to make as a consumer to choose between security providers. Avast Vs Norton, by comparing their different features and utilities a conscious consumer can make a good choice.
Avast's Antivirus
Avast Free Antivirus is one of the most popular security option available for free in the market. Other than basic security-related features, it includes several utility tools like WiFi Inspector which checks for vulnerabilities in your home network. Also, a silent mode for interruption-free experience and a password manager. It allows you to create a rescue disk to crush hard-to-remove infections.
A browser cleanup option and a software updater are also included which tells about which of your software are outdated, but you will need to update them yourself and web browsing protection is also included.
Avast Antivirus Pro includes everything jammed into free plan plus a sandbox which lets you test and play with potentially dangerous files in an environment separate from your PC, a real site feature which protects against fake websites and hackers and premium customer support.
Avast Internet Security is the company's most popular offering which includes an advanced firewall, an anti-spam filter to provide safety against ransomware along with features included in the 'pro' plan.
Avast Premier adds webcam protection which prevents hackers from spying on you, data shredder for permanent deletion of sensitive files so no one can recover them and an automatic app update feature.
Avast Ultimate includes everything talked into ' Premier' plan plus a cleanup premium which lets you speed up your system performance by cleaning junk files, a VPN and an avast password premium.
Avast Security which is available for Mac has the same features and is completely free. It allows you to run different types of scans and also offers web shields which block dangerous downloads, email shield which protects against malware-infected email attachments and a WiFi scanner.
Avast Security Pro exposes WiFi intruders and adds a ransomware shield to make sure that none of your personal files and folders can be encrypted.
Norton's Antivirus
Norton Antivirus Basic available only for Windows is the company's entry ticket to the industry. Protects against different threats, blocks phishing scams and also hides your sensitive information, when you are online.
Other than a useful password manager, available as browser extension it offers no advanced security-related features and utilities.
Norton Security Standard adds an advanced two-way firewall, virus protection guarantee and premium customer support. Symantec's expert helps you to keep your devices virus free, if not you can have all your money back. Protects one PC and MAC or mobile device with a single subscription.
Norton Security Deluxe provides you with everything packed into the 'Standard' suite including an intuitive web portal helping you to manage all your devices at one place. Also, PC optimization tools including File Cleanup Tool and the Disk Optimizer.
Protects up to 5 devices can be PCs, Macs, mobile phones with a single subscription of this plan.
Norton Security Premium the company's top-drawer antivirus package. Includes everything mentioned in the 'Deluxe' package. Contains parental controls, an automobile backup utility and a cloud space of 25GB.
Avast vs Norton: Which offers better malware protection?
Malware protection is the most essential component of any security software system. A security product should protect against all sort of threats such as Trojan Horses, Viruses, Worms. Malware can be classified into two types- Known Malware also called wide-spread Malware and Unknown Malware also called zero-day Malware.
Unknown Malware is more dangerous as the previous mark is available for it, thus security program relies on advanced behavioural techniques to identify and eliminate them. Known Malware is detected using a signature-matching methodology which means by comparing a suspicious file against a huge database of known Malware samples.
The recent test was conducted on Windows 10 in September and October 2017. Both the software received the perfect result they blocked 100% of the malware in both the months. Earned a rating of 6/6 stars from the experts.
Similar test conducted in windows 7 in July and August 2017. Avast blocked 99% in July and 100% in August. Norton scored a perfect 100% in both the months against both the type of malware. Both the suite received 6/6 star rating.
The AV-Comparatives did two major tests to asses the protection level, Malware Protection Test and Real-World Protection Test. Real-World Protection Test to check a product against real-world conditions experienced by everyday users. While the Malware Protection Test aims to assess a program's ability to prevent malware infections.
In the AV-Comparatives Real World test, Avast received an excellent 'ADVANCED+' award because of its high rate of 99.6. Norton had a near perfect score and received 'ADVANCED' award.
In the AV-Comparatives Malware Protection test, Avast received 'ADVANCED+' award with the rate of 99.9% and 9 false positives. Norton rate was 99.9 % with 275 false positives. It received the lowest status of 'TESTED' in malware protection.
False Positives is when security product wrongly classifies a clean file or URL as malware infected.
Avast vs. Norton: Which puts less impact on system performance?
AV Test's Performance studies the influence of a product on system performance by performing basic tasks such as launching websites, downloading applications and copying files. Norton received a score of 5.5/6 stars.
AV-Comparative's Performance Test measures the influence of a security product on computer performance like AV-Test's study. It assigns an impact score to each product depending on their level of impact. The lower the impact score, the lesser the influence a product has on a computer's performance.
Avast impact score was 8.9 whereas Norton had a better score of 8.7, both received the 'ADVANCED+' award.
Avast vs Norton: Which software offers a better user experience?
Avast interface is dark and elegant but may seem a bit overwhelming and complicated. It has a vertical menu on left with tabs like status, protection, privacy and performance tabs.
The default home page status shows protection status with green colour when everything is good and red colour showcasing a problem. The other tabs open submenus that contain relevant features associated with the tab.
At the bottom left of the side of the screen, there is a screen which takes you to the setting page and on top lies 'Upgrade' button. Many premium features are locked in the free version, the tab also shows unobtrusive ads in the free version.
Norton's interface is the same as it was years ago. If everything seems fine, you will notice " you are protected" message next to a green tick. If it changes to red 'X' then there is an issue that needs your immediate attention. The identity page covers web protection features and tools, including an identity safe password manager.
The menu on the homepage has four modules (security, identity, performance, more Norton) arranged in a horizontal manner. The top row has a search bar which also contains links to settings, help and report card. At the bottom, you can see your subscription status and a link of renewal
From the security tab you can process different scans, manually update definitions, check error logs, access protection history and switch on/off other advanced modules. Performance tab contains features that help in improving the performance of your system.
Avast vs Norton: Which is more popular among users?
In the recent OPSWAT's share report, Avast leads the market share by 19% followed by ESET with 14.03% share and Malwarebytes with 12.73%. Norton didn't make it to the top 10 list.
According to social numbers, Avast has 4.1 million followers on Facebook whereas Norton is just over 1.3 million. On twitter, Avast has 182K followers whereas Norton has 157K.
Final Word
According to lab testing, Avast was successful in blocking real threats. It is a decent package which is capable of protecting the entire family, which is easy to use and provides advanced protection against malware.
Norton provides flawless antivirus protection with only minimal impact on the  system. Also, showcase excellent detection rates and great performance.
For more interesting articles, visit here!
Summary
Reviewer
Review Date
Reviewed Item
Author Rating