Post Menu and Details.

Words: 4875

Reading time: ~20 minutes
Ever since devices (PC, MAC, and mobile devices) became mainstream, consumers have been looking for ways to speed them up. Whether for business or pleasure, you probably want to know how to protect your devices from various types of internet attacks.
Many software programs and tools have promised to do just that over the years, but most have been completely unnecessary. Fortunately, there is one that has stood the test of time that protects our devices from attack, the Avast Antivirus.
The best description for Avast antivirus.
Avast is an antivirus for Windows, Mac, Android, and iOS users. It is a very popular tool that protects your computer from harmful viruses, malware, spyware, and all other threats. This tool is available in free and paid versions. The free version has some limitations that make you think about upgrading to the paid version.
Avast Antivirus has over 400 million users worldwide and is not a new company as it has been one of the biggest names in computer security for years. This antivirus product has always been considered one of the best by experts.
The most important things that make Avast an exceptional antivirus is its user-interface, security protection against attacks, additional utilities such as a safe browser for its users, Virtual private network, and computer optimizer. All of this makes Avast interesting for novice and experienced users alike.
In summary, Avast antivirus is best for the following:
Regular users and business owners.
People that put internet security and privacy above all.
A device running on windows OS.
Users looking for entry-level protection while upgrading to the paid plan is super easy.
Before we dive deep into why you should consider Avast antivirus for your device security and protection, here are some intriguing questions that you are likely to ask about the antivirus software.
Is Avast antivirus safe?
Based on research, benchmarking, and testing; It's safe to say yes, Avast antivirus is 99% safe to use. Avast is a good antivirus that you can use to protect your PC. However, this can rarely lead to specific problems and we will discuss this instance in the following sections. First, let's quickly find out if Avast antivirus is safe and how it is. We will examine various factors of our activities on the PC that Avast monitors and protects.
Is Avast antivirus safe for threat-protection?
Avast Antivirus provides excellent protection against real-time threats against viruses and other malware. The virus definitions are updated regularly to keep up to date with new threats. However, the free version only offers a poor level of protection.
As a business owner or a person that are will be a frequent user, we will recommend that you use Avast Premium Edition to stay protected from all types of threats. Based on our research and reports we can conclude that Avast is safe for protection against threats if you subscribed to a paid version.
 Is Avast antivirus safe for web browsing?
Avast Antivirus provides real-time monitoring while the Avast Secure Browser is in use. It offers excellent security and privacy on the internet. Avast Pro Edition also offers safe web browsing through other browsers such as Edge and Chrome.
However, you must grant the necessary permissions to do so. One of the limitations of the free version is that it doesn't offer safe browsing. Therefore, Avast antivirus is safe when browsing the Avast Secure Browser.
Is Avast antivirus safe for PC optimization?
Avast antivirus raises its eyebrows for PC optimization. When using the free version of Avast Antivirus, we've found that it slows down your PC significantly and then allows for unnecessary tweaks. It is capable of cleaning up junk files and removing unwanted software, but you can also do it manually.
For the free version, you need to upgrade to the Premium Edition as it lacks some features that are necessary for better optimization.
Unlike Avast premium, Avast Free is not safe for your PC optimization because it can lead to performance issues.
Is Avast safe for privacy and security?
Avast antivirus is considered safe for your privacy and security. However, there are no such reports on the paid version. Avast Premium also offers great password protection, blocks snooping from webcams, and blocks phishing emails. You can also use Avast VPN to browse the internet anonymously. Hence, Avast is somewhat secure for your privacy and security.
Is Avast antivirus safe for protection against online attacks?
The free version of Avast antivirus does not protect you from hacking attacks as there is no firewall. To stay protected from various types of online malware attacks, you should upgrade to Avast Premium. In addition, the Pro version blocks fake shopping websites so you don't misuse your credit card information.
The free version cannot. Therefore, Avast antivirus is only protected from online attacks if you have the Pro version.
 Does Avast antivirus infect devices with a virus?
Avast antivirus cannot be called a virus because it is an antivirus designed to protect you from viruses. However, sometimes Avast can turn itself into a virus. This can happen when a virus or malware infects Avast's core files and causes it to malfunction. This is a rare case, but it has been reported by multiple users. In this case, Avast will install its own default browser without your permission and update itself randomly without your control.
How good is Avast antivirus?
The Avast Antivirus homepage makes an interesting claim to save the world with the best technology. Since entering the software market, Avast has grown from a simple antivirus application to a larger product that helps users around the world with their digital and personal work experience.
While there is a wide variety of software available, the Avast Antivirus rating has consistently high marks and expertise. The final choice always depends on personal preferences and requirements. Avast is perfect for those who need a trustworthy, fast, and reliable app that can be easily obtained from the official distributor.
It is convenient to find all of the developer's important information on their website. Before buying, you can find out about all the nuances of the free and paid packages, as well as learn about additional security tools. The price range is set to suit the needs of all possible users, but the range of features would differ slightly.
Whichever plan you choose either Avast Free or Avast Premier, a perfect level of security is always assured to its users. Both versions have important functions for smart scans, password protection, browser cleaning, and virus protection. However, there are Pro and Premier packages, both of which are worth considering, but the difference lies in the complexity and level of protection they offer. For example, the Premier package offers the most complete range of features, including anti-spam and webcam protection.
Avast Antivirus provides essential software programs for devices such as Mac, Windows, Android, and iOS platforms, as well as solutions for business and multi-user software. Because Avast is more advanced and it doesn't require much space, there is an increase in performance without slowing down your device.
Is Avast antivirus scan performance any good?
Avast antivirus remains one of the top internets and IT security options because of its ease of use and reliability. Although there are no limits to perfection, the software shows steady growth. Sometimes adjustments are still needed to detect most viruses and potentially dangerous attacks. However, the Avast offline and online malware detection rate is 98.6, while the protection rate is 99.99%, showing 15 false positives according to Avast's results reports. AV comparison tests.
Often times Avast antivirus cannot identify itself as a threat because Avast Online Scan is a little weaker as it detects malicious URLs and prevents them from being removed before the download process begins.
Avast Smart Scan offers a layered scan that can be scheduled from browser components to PC performance issues. However, troubleshooting recent performance issues may require the purchase of Avast Premium Cleaner, which may not be suitable for all. The smart scan test is quick and useful for detecting surface threats. So, for a more detailed check, it is better to use the full virus scan, but it will take several hours.
Avast Online Security and Browser Clean-up are the extensions with which you can avoid advertising leads and analyze the security level of the website. Note that Secure Browser is free to install in the latest updates.
There is another type of scan from the Avast antivirus offering called a start-up scan. Infrequently used, it provides scanning for hidden threats that cannot be detected during a smart scanning session. This is also an advanced bump test that takes several hours. This type of scan allows users to remove malware that can sabotage not only the security but also the general functionality of your PC.
 Below is a list of Avast antivirus features
Malware protection
One of the defining characteristics of antivirus is its ability to withstand malware attacks and there is no doubt that Avast Antivirus is a perfect tool to help you keep your device safe from sophisticated malware. The software uses deep 6-layer protection to detect and stop malicious programs within seconds. Avast is also good at removing malware.
To make it easier to manage the security of all your devices, Avast has bundled all paid security features into one cross-platform solution that works on Windows, Mac, Android, and iOS. Avast offers different levels of protection against malware.
Avast Web Protection checks every URL link you click and warns if it is malicious, while the firewall provides protection from hackers and the network disables internet access if your device is connected to a public Wi-Fi network.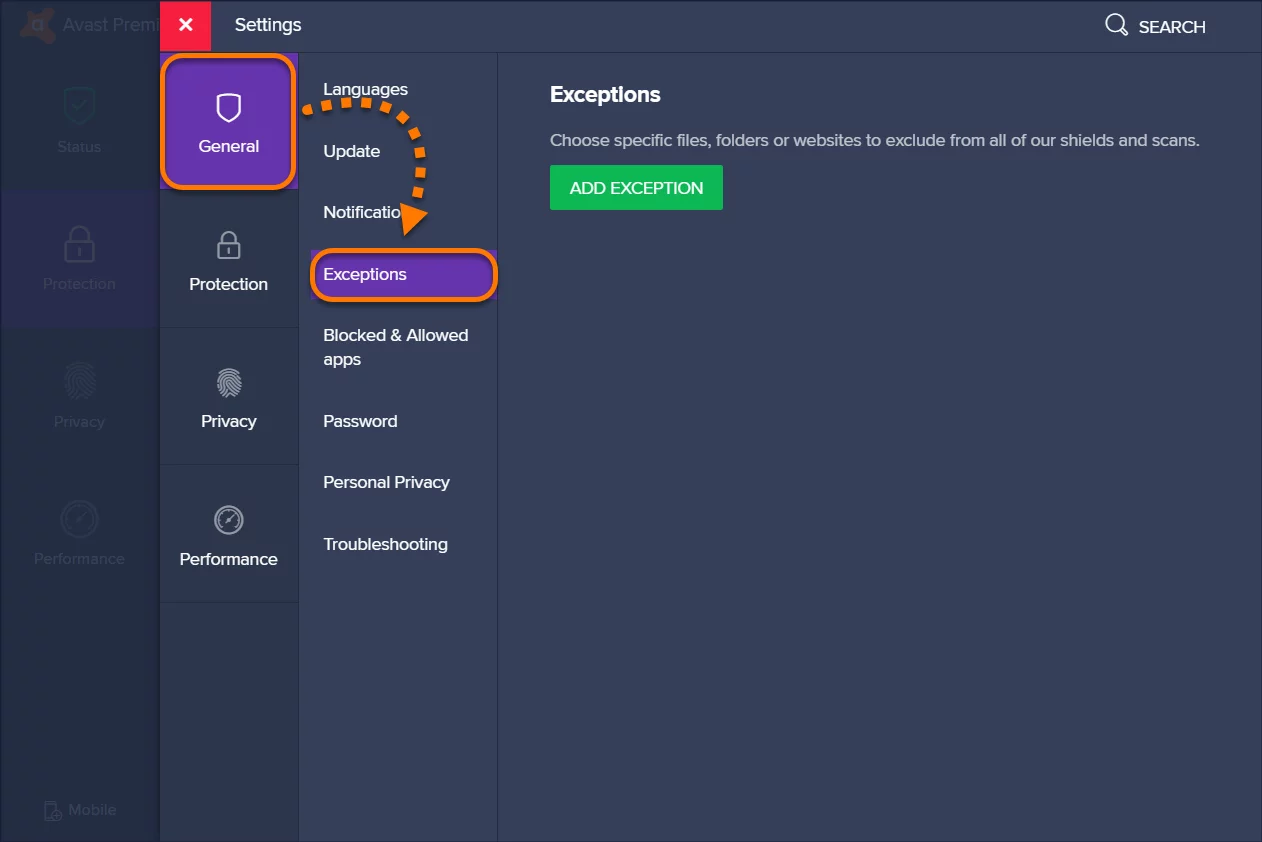 Phishing protection.
As we all know, phishing is another way for cybercriminals like hackers to make a living. This method of theft was considered an ancient method because it is well known, but many people are still trapped. For this reason, effective detection of phishing threats is considered an important factor when choosing an antivirus program.
Avast antivirus uses its AI to detect phishing sites, and hundreds of millions of sensors feed data to the AI ​​to detect threats faster and provide better protection. Avast scans every site visited by its users and analyses them according to a defined criterion.
Avast antivirus has expanded its capabilities significantly by using technology with AI to detect threats and take security measures. Phishing is a very effective social engineering technique, and cybercriminals are improving methods of forcing people to share confidential information.
 Ransomware Shield.
When we use the Internet, we often look for information, make various purchases, conduct financial transactions, and also communicate with our friends and family members, etc all the listed activities deserve effective protection measures. Using multiple devices online puts our devices at high risk of security breaches and attacks from online threats.
Ransomware poses a nasty threat to our computers when infected. There is a high possibility that you will lose a large number of files if they are encrypted. This is why it is important to have reliable tools to detect ransomware and save your device. Even the free plan offers a high level of security. Commercial offers offer more differentiated protection.
Ransomware Shield offers comprehensive centralized online protection for all your devices on every platform. The company's industry-leading solution protects against webcam threats, encryption trojans, password theft, and other types of threats. Avast antivirus offers free decryption tools that you can use to decrypt your files affected by different types of ransomware.
Avast anti-rootkit.
Anti-rootkit security is important to prevent intrusion into administrator access to a PC. A rootkit is a program that works at the lower levels of the system. For this reason, you should use a rootkit scanner in the updated anti-virus software and firewall. However, an anti-rootkit scan and monitor are pre-installed in the software and available when the program is started.
Finding and disabling malicious programs doesn't require additional time and manual optimization as it can be done automatically. Avast's latest anti-rootkit update from March 2021 improved the protection of the Unified Extensible Firmware Interface.
 Network protection and blocking Malicious sites.
Home Network Security is a module that not only scans the user's computer, but also all devices connected to the router such as printers, smart TVs, and webcams. As is well known, Wi-Fi devices are also vulnerable, and almost any node on the home network can be turned into a bot and used to commit crimes as part of a botnet.
With the help of the network security module, you can check your home network in no time. The home network security recognizes the open and accessible ports of your router. Avast typically works with many router manufacturers to secure various types of networks, especially home networks and as a digital company, Avast antivirus pays attention to the security of physical devices.
The malware blocking function is also required for internet security conditions. This utility provides an extra layer of protection to keep your device safe. You can also use the Malicious Website Blocking features as a parental control feature and make a list of the websites your kids shouldn't be able to access.
Other important protection features include:
Avast Anti-Track feature
The Avast Anti-track is a new tool that blocks tracking when visiting websites online, with support for Chrome, Firefox, Opera, IE, and Edge browsers. This utility helps to stay anonymous and protects against identity theft.
Avast Anti-track includes extensions for internet browsers such as Chrome, Firefox, Opera, IE, Edge, etc.
It also helps users stay anonymous when surfing the internet and also offers an easy-to-use interface.
Anti-track is also known to help its users to keep online activity history confidential.
It helps to stop Web advertising services from saving your browser cookies which is regularly used to track your preferences.
Avast Anti-track provides protection against online identity theft by cybercriminals.
SecureLine VPN
Optional paid component for all versions, Avast Secure Line VPN capabilities allow you to create a private virtual network that is a secure Internet tunnel for the user. Such a tunnel provides encryption of all transmitted information and connection protection in case of public Wi-Fi networks use.
A new version of Avast SecureLine VPN for PC and Mac offers an additional layer of privacy protection by automatically enabling a secure VPN connection when you start your computer. Another useful feature is the automatic connection of Avast to SecureLine when using an unprotected Wi-Fi network, which allows hiding the actions of users on the network from the prying eyes.
 Passwords Premium
For those users who worry about password reliability, but at the same time do not want to complicate their lives, Avast antivirus has the Password Manager. You only need to configure the feature once, and you can use just one master password to log in to different accounts securely. It also provides encryption and secure storage of information, as well as synchronizing data on all devices.
Avast Game Mode
Gamers will definitely appreciate the Avast Game Mode feature that can also be used to improve performance. Modern games load the system heavily, and when using antivirus, most often, it becomes impossible to play them. Avast solved this problem by allocating a separate component that reduces its own load on the operating system and thus frees up resources for gaming.
Wi-Fi Inspector
The Avast Wi-fi Inspector function allows scanning routers, personal computer, mobile, and IoT devices connected to the network for free. It detects and eliminates the found problems. Identification of devices and detection of vulnerabilities and other risks is also improved. Avast Wi-fi Inspector displays the device which was founded in the network on the detailed map that simplifies navigation and management of the devices connected to local networks.
Clean-up Premium.
The Avast Cleaning premium is an optional paid component for all versions. It scans your computer for performance problems and unwanted items. You can run this function in a free version to view the problems on your computer. However, you cannot fix them automatically. Once verified, cleaning can free up disk space and speed up your computer.
 Secure Browser.
Many users use different browser add-ins. This often affects the PC's performance and security. It is difficult to keep track of all of the additional requirements when they are large. Avast developers suggest that such a check be carried out on the user via an antivirus program. When you run a smart scan, you check the various components and partitions on your computer, including the low-rated browser add-ins, and then the user can decide whether or not to remove them.
Ease of Use
One of the biggest advantages of Avast antivirus is that it is very easy to use as it is a straightforward tool even for a beginner. Download Avast for free from the official website to use it. The free program can even be downloaded from some third-party websites. However, you can find the latest Avast products on the official website.
Be careful when installing the program as it offers installation of the standard Chrome browser. When you don't need it, turn it off. Once the antivirus is installed, you can launch it by clicking the bright orange icon. The app has a sleek, all-black design with a column of menu items on the left. In particular, you will see four main icons including Status, Protection, Privacy, and Performance. By clicking on the desired symbol, you can call up the corresponding submenu in which the respective characteristics can be selected. Avast for Mac looks a lot like the option for Windows.
Customer Support.
The Avast community is huge and the need for professional customer service is overwhelming. If you have any questions, you can contact support using the ticket form on the website. Unfortunately, they do not offer advice over the phone. However, your email response was pretty quick: we responded to our request within 20 to 30 minutes.
 Avast products and subscription plans.
Avast is one of the most high-cost antivirus software as it is available for all types of users offering from free to various paid plans which makes it more flexible when it comes to its pricing.
Here is what Avast has to offer in terms of pricing;
Avast Free Antivirus.
Avast Free Antivirus is an ultra-light and modern antivirus with minimal load on system resources. The new version has been improved to increase efficiency and reduce the load on the system resources.
Avast Free Antivirus essentials include:
Intellectual scanning: Avast free discovers all the vulnerabilities that could give access to malware penetration into your devices which varies from unsafe passwords to suspicious add-ons and legacy software.
It provides Antivirus detection support and also blocks internet virus attacks such as malware, phishing threats, spyware, and adware with intelligent analytics.
Behavioral analysis: there is an instant detection of suspicious behavior from attacks that protect against ransomware and zero-day threats.
Cyber-Capture features usually isolate unknown files for analysis in the cloud and also verify their security.
The Do Not Disturb Mode blocks notifications while Avast users are either playing games, watching videos, and making full-screen presentations.
It offers both web and phishing protection to prevent malicious sites, scams, and forbid you to go through any fake links without installing a special browser extension.
Mail protection feature which prevents infected emails from entering your mailbox (such as Outlook and Thunderbird), and it also prevents infected emails from being sent from your account.
Avast antivirus Premium Security.
Avast antivirus Premium Security is an advanced version of Avast antivirus that includes comprehensive features such as firewall, ransomware shield, and privacy tools.
Avast Premium Security is an all-in-one antivirus, now even faster and more efficient because of moving computing processes into the cloud. It is the largest threat-detection network, lightning-fast behavior analysis, and cloud-based artificial intelligence among other exciting features.
Avast Premium Security Benefits includes:
Avast Premium Security offers protection against viruses and other malware. It also helps its users to detect and block malware threats in real-time.
Avast Premium Security blocks ransomware, and it does not let intruders obtain your sensitive data and blackmail you.
Avast Premium finds weaknesses in Wi-Fi security and identifies vulnerabilities of any network its users try to connect.
With Avast Premium Security, you can have a safe online shopping avoids fake sites to make purchases and transactions secure.
Avast Premium Security provides some privacy features which include:
Network Analysis: it automatically detects vulnerabilities in your home Wi-Fi network to protect against hacking.
With Avast Premium Security, there is a protection of the webcam as it prevents surveillance by unreliable apps and prying eyes through the computer's webcam.
Protection of confidential data: Avast Premium security block spyware attempts to access your medical, and other sensitive documents.
Data Shredder: Avast Premium Security permanently deletes any files that allow you to borrow or throw away your computer without compromising your privacy.
There is a Do Not Disturb mode feature which blocks notifications so you can watch videos, play games, and play full-screen presentations without interference.
Automatic updating of programs which helps to improve the performance and security of critical software.
Avast Omni
Avast Omni is the latest in internet technology. Avast has developed a system that protects the entire home of the user and checks all connected devices, as Avast understands that they can contribute to more than just PC and smartphone security.
Avast Omni involves the collaboration of Big Data, AI, and machine learning to create a high level of security for the entire home network. The cloud platform analyses all possible threats in real-time and thus ensures a quick response to potential risks.
You can use the Avast Omni app to monitor devices on your Wi-Fi network. You will receive a notification via the Omni app in the event of a suspicious activity or fraudulent attacks. It can also be used to protect laptops, tablets, and smartphones, as well as parental controls. We can say that Avast Omni is a complete solution for protecting you and your family.
Avast antivirus also offers flexible software packages for businesses and legal entities (small and medium-sized businesses), commonly known as Avast for Business.
Avast for Business.
Avast Antivirus for Business is a small business antivirus with the central management cloud console. It provides endpoint protection for Windows, Windows Server, and Mac OS-based workstations. Avast Business is a new enterprise endpoint security solution that combines the best of Avast and AVG antivirus technologies. This antivirus solution offers behavior analysis, real-time analysis of files, downloads, and emails, and intelligent blocking of malicious URLs.
There is a comprehensive anti-virus tool including spam filter and intelligent firewall, Wi-Fi scan scanning for network vulnerabilities. Sandbox acts as an isolated environment, protecting the rest of your PC from malicious effects. Disaster Recovery Disk enables you to remove even the most persistent and hidden threats.
When all you need is additional functionality, Avast Business Antivirus Pro offers support for Exchange and SharePoint servers, software security to keep your applications up-to-date, and a data destruction tool.
The Avast Business Antivirus Pro Plus solution offers an Avast SecureLine VPN subscription, Passwords Premium, web camera security, and browser clean-up features.
All packages can be installed either as stand-alone antivirus or remotely managed using a cloud console and it is recommended to have more than five (5) devices using the Avast for Business.
You can also check bitdefender vs avast.
 Comparative analysis between Avast Free and Avast paid plan (Avast Premium Edition).
| | |
| --- | --- |
| Avast free | Avast Premium Editions |
| Avast free detects and removes the virus as well as other Malware attacks. | Avast premium edition detects and removes all kinds of viruses and malware attacks. |
| Protection level is Normal | The protection level is advanced. |
| Avast free is able to scan for Wi-Fi security weakness. | With Avast Premium edition, users get to avoid fake sites for safer shopping. |
| Avast free secure your passwords. | Avast premium edition secures your passwords. |
| With Avast free, there is 24/7 protection guaranteed | It safely runs suspicious apps. |
|   | Avast Premium edition offers an advanced firewall to block hackers. |
|   | There is an extra layer of security to prevent ransomware. |
|   | It blocks Webcam spying. |
|   | It blocks phishing emails. |
Avast Mobile Security for Android and iOS.
Avast Mobile Security provides powerful protection against malicious applications, Wi-Fi network vulnerabilities, viruses, etc. Avast Mobile Security is useful when you need to block malware, improve phone performance, and track your device if it is stolen.
Avast Mobile Security helps iOS and Android protect personal data with automatic virus scans and malicious URL notification, and blocks hackers with an integrated firewall. The anti-theft feature supports remote management and allows you to clear your smartphone history, lock your device, activate your siren, track your location with GPS, perform audio monitoring, and other useful actions.
Avast Mobile Security also offers application management similar to Windows Task Manager, showing lists of running applications and their size (MB), CPU usage, memory usage, and the number of threads and services. With this sophisticated feature, users can stop and delete processes on their devices.
Avast Mobile Security is free and has several features that are not available in major products. With privacy reporting, application manager, and remote phone security management capabilities, Avast Mobile Security takes the lead in fully protecting and controlling your smartphone.
Avast for Mac.
Avast Antivirus for Mac offers multiple levels of protection for its users' messaging screen, a Wi-Fi network scan, and web screen protection against downloading infected files from the Internet. Avast Security for Mac has 3 security screens, on-demand scanning, and a popular web security plug-in for WebRep that installs automatically in Safari, Chrome, and Firefox browsers.
Key Features of Avast Security for Mac includes the following:
It offers features such as Web Dynpro which scans all visited web pages (port 80), downloads, and Java scripts support IPv6 connections. With its intelligent web-flow scanning feature, it does not slow down your Internet connection.
The email screen feature scans all messages for malware and it also serves as an email proxy, so if you access the mailbox over a secure connection (SSL), you must configure your email client and mail screen to support this type of connection.
Avast Security for Mac offers protection against dangerous and phishing websites for web browsers such as Safari, Chrome, Firefox by using cloud-based WebRep technology which provides access only to reliable websites according to Avast community rating, and it also provides greater protection against phishing sites and sites with fake SSL certificates.
Avast antivirus installation guide and Setup.
To protect your computer, you need to install and register Avast Free Antivirus. Some paid components will also be installed on the computer, but will not be available until payment has been made.
The installation of the antivirus is simple and understandable.
The installation distribution can be downloaded from the developer's website.
After you run the installer package with administrative rights, you can begin the installation directly. On the Welcome screen, we recommend you to review the terms of the User License Agreement and configure the installation options.
Once the installation is complete, the Installation Wizard will notify you and offer you to read the Privacy Policy and install a free version of antivirus on your mobile device.
The last step can be skipped if the mobile phone is already protected. After installation, Avast Free Antivirus works in background mode. After you turn off or remove third-party antivirus from your computer, you can start configuring Avast Free Antivirus.
Register for Avast Free Antivirus when the installation is complete, the Avast antivirus icon appears in the lower right corner of the screen. Right-click it and select Registration Information. In the window that appears, you can purchase additional components, such as Avast Clean-up and VPN SecureLine, and register, or enter a paid license activation key if you have one.
Avast Free Antivirus scores 100% on Malware Protection Test.
With so many cybersecurity products crowding the marketplace, consumers are grateful for independent test lab AV-Comparatives.
For Avast Free
Reference: https://www.av-test.org/en/antivirus/home-windows/manufacturer/avast/
Avast Internet Security
Click the link below to view more on AV-comparative test analysis.
https://www.prnewswire.co.uk/news-releases/av-comparatives-announce-best-performing-consumer-antivirus-programs-h1-2020-803905780.html
Avast Pros
It is one of the fastest and most secure antivirus available in the market
The detection/removal rate is very impressive.
Avast For Business packages are among the best offers in the market.
It is very user-friendly, easy, and intuitive for its users.
Provide excellent value for money to its users.
There is a 30-day money-back guarantee available with the top-tier plans except for Ultimate.
Avast Mobile Security for Android is totally free to download and use.
There is a list of additional tools which is quite impressive compared to other competitors.
 Avast Cons
As a user, it might be a bit difficult to make sense of all the various packages
Avast antivirus is not on sale for iOS but there is Avast VPN, which is the only available product.
The scans can be slow, especially on older devices.
The Avast free version comes with a limited set of features for users.
Avast antivirus FAQs
---
Should Avast antivirus be regarded as a good antivirus?
This is good antivirus software in its own right, the free version of which differs from the paid version only if certain features are missing. Regularly updated virus database analysis makes It is an excellent security assistant.
How do I cancel my Avast subscription plan?
To cancel the Avast subscription plan, you need to go to your account on the official website, click on the "Subscriptions" section, and in this section click on the "Cancel Subscription" button. This can also be done from the desktop application.
Is Avast Premium Security worth its value for money?
Premium Security is a real giant in the antivirus market. This version of the antivirus program contains all the attributes necessary for reliable protection of your system, your home network, and your data. Check out our Avast Premium Security Review for more useful information.
Download Avast Antivirus Review Is  Worthy mp3 file
Thank you for reading!
If you liked this post, check out these too:
---