Hackers are constantly in search of new methods of stealing your data, breach your privacy and drain your system. You are exposed to new 350,000 malware threats every day. You need to take measures to protect your data and privacy. Otherwise, you will find yourself in a lot of trouble.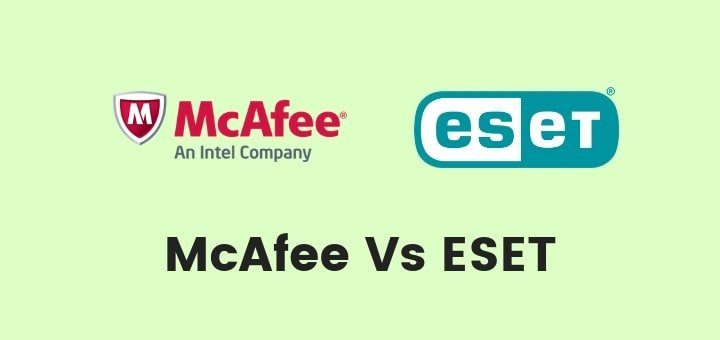 In order to protect yourself against these threats, you should use reliable security and antivirus system that not only provides award winning antivirus protection but also a set of decent features. It is tough to choose nowadays from various offering and providers but don't you worry we have got your back.
McAfee's Antivirus
McAfee Total Protection is the company's most popular antivirus offering. Provides top-notch malware protection and has almost all features including an advanced firewall, a file encryption tool, a password manager and a file shredder.
Also, a network manager which protects your WiFi against malware attacks, an anti-spam email filter and parental control feature to manage your kid's digital life. It warns you about dangerous websites through browser extension called Web Advisor.
McAfee LiveSafe offers 16GB of online cloud storage along with all features and utilities jammed into 'Total Security' suite.
Both McAfee Total Protection and LiveSafe are compatible with Windows, MAC, Android and ios.
ESET's Antivirus
Unlike other companies, ESET offers separate products for different platforms.
ESET NOD32 Antivirus is the company's first level offering for window users. There are not many advanced features and utilities than a silent mode feature which suspends the notification for an uninterrupted experience.
But the software does the basic like protect you against all types of malware threats like ransomware, worms, trojan and rootkits.
ESET Internet Security which is only Windows product includes everything jammed into first level offering plus a hardened browser which protects your financial data during an online transaction.
Also, a network motor utility which protects your network against hackers and intruders, a two-way firewall and an-anti theft module which helps to locate stolen or missing devices. Protection against webcam spying and phishing emails is also integrated into the package.
ESET Smart Security Premium company's full pack security suite for windows platform. You get everything promised into 'Internet Security' plan along with an advanced password management tool and the Secure Data utility which creates password protected virtual devices to protect your sensitive data from hacking.
ESET Multi-Device Security company's multi-platform security package. A single license means you can use every product ESET product including those built for Mac and Linux. But ESET restricts a limit on the number of devices you can protect with this suite.
ESET offers two specialized suites for MacOS which are ESET Cyber Security and ESET Cyber Security Pro.
ESET Cyber Security protects against a range of malware threats such as viruses, ransomware, worms, trojans along with web browsing protection and free customer support.
ESET Cyber Security Pro includes everything talked into ESET Cyber Security plus a two -way firewall and parental controls.
McAfee vs. ESET: Which offers better malware protection?
Malware protection is the most essential component of any security software system. A security product should protect against all sort of threats such as Trojan Horses, Viruses, Worms. Malware can be classified into two types- Known Malware also called wide-spread Malware and Unknown Malware also called zero-day Malware.
Unknown Malware is more dangerous as the previous mark is available for it, thus security program relies on advanced behavioural techniques to identify and eliminate them. Known Malware is detected using a signature-matching methodology which means by comparing a suspicious file against a huge database of known Malware samples.
A recent test conducted in September and October 2018. McAfee detection rate against malware widespread was flawless during both months, but it didn't do that good against zero-day malware and received a 5.5/6 rating from AV-Test experts in 'protection' category. ESET didn't participate in these evaluations.
Recent Real-World Protection test was held between July and November 2018. McAfee received the highest 'ADVANCED+' award in the test as it scored 99.4% with 16 false positives. ESET could get the second-best 'ADVANCED' title in real-world study because of its slightly lower protection rate of 98.9%, it returned 4 false positives during the tests.
False Positives is when security product wrongly classifies a clean file or URL as malware infected.
The latest version of Malware protection test held in September 2018, ESET managed to get the highest 'ADVANCED+' award due to its perfect score of 99.94% with just one false detection. McAfee's protection rate was better it scored 100% but had to settle for second best 'ADVANCED' title.
McAfee vs. ESET: Which puts less impact on system performance?
AV Test's Performance studies the influence of a product on system performance by performing basic tasks such as launching websites, downloading applications and copying files.
McAfee got a full 6/6 rating from experts in 'Performance' category. ESET didn't participate in the recent AV-Test evaluations.
AV-Comparative's Performance Test measures the influence of a security product on computer performance like AV-Test's study. It assigns an impact score to each product depending on their level of impact. The lower the impact score, the lesser the influence a product has on a computer's performance.
Both McAfee and ESET was awarded the highest 'ADVANCED+' award in the test and had impressive impact scores of 6.4 and 1.7 respectively.
McAfee came out as the winner in this category as it got exceptional scores in all tests.
McAfee vs. ESET: Which software offers a better user experience?
McAfee's interface has gone through major changes, the new interface is simpler and brighter with colours of white, grey and pale blue.
On top, there is a horizontal menu with five items- Home, PC Security, Identity, Privacy and Account. There will be a link to settings, alerts and tips are also there in the top-right corner of the menu. PC Security, Identity, Privacy tabs contain relevant features while account view has information about your subscription plan.
The default view, the home view shows your computer's protection status in the left rail either with a green check mark or a red warning sign. To run a full quick scan, buttons are available for it. Along with titles at the bottom to help you set up, remove browser cookies/trackers and true key password manager are also available.
ESET interface is simpler, brighter and functional in colours of black, dark green and light grey. The left side has a horizontal menu with categories like Home, scan, update, tools, setup and help and support.
When you open the software you begin with Home Window which shows protection status next to a robot. You will be shown a reassuring message 'You are protected' with a green checkmark when everything is good. Links to access different module are also there on the main window.
The title bar shows the name of the suite you are subscribed to. At the bottom number of days remaining of your subscription is shown.
McAfee vs. ESET: Which software is more popular?
OPSWAT releases a monthly report on the market share of leading antimalware products. According to a recent report, AVAST is the player in the market with the biggest share of 18.44% followed by McAfee of 12.58% and Malwarebytes of 12.23%. ESET is fifth on the list with 9.09%.
Final Words
ESET is a good choice for those who look for advanced malware protection with long and useful features set and a great navigation system. Even for those who look for flexible plans and might need an antivirus without various features that may seem unnecessary.
McAfee showed impressive results in antivirus detection and removal results on Windows and PCs. It has a great set of features and offers unlimited licensing, highly recommended for those who want to protect their family using a single subscription.
ESET is one of the best choices in the market but McAfee is a better choice as it offers slightly better malware detection results and great performance rates.
For more interesting articles, visit here!
Summary
Reviewer
Review Date
Reviewed Item
Author Rating