Post Menu and Details.

Words: 2275

Reading time: ~9 minutes
Introduction
Are you a programmer, coder, developer, software engineer, and other system admin who wants to have the laptops useful for programming? Then, you are going to get detail about the best programming laptops.
Standard laptops are beneficial for routine work, gaming, movies, and other services. However, you cannot use these laptops for programming because the programming needs to have faster, more reliable, and ergonomic-friendly components than simple laptops.
Thus, you cannot do programming on typical laptops. You will face multiple problems like lack of speed, less storage, fatigue, health issues, and other various issues if you try to do it.
Apart from these features, the programming laptops should have great RAM, optimal storage, speedy and convenient keyboard, higher resolution, and other features. The minimum specifications that you should see are below in the table.
Minimum Specifications for Programming Laptops
RAM
It should be 8 GB or more
Storage
256GB of SSD or having 500GB of Hard disk drive
CPU
Intel Core i3
Display
1040*1080 resolution
GPU
Dedicated with 4GB VRAM
Also, you may be interested in:
Best Laptops for Programming
Finding the best laptops for programming may be daunting and exhausting work for you because the market is full of thousands of programming laptops. Each computer claims to be the best for programming.
This section will reduce your efforts and time by letting you learn about the six best laptops for programming in 2021.
Go through each laptop with complete detail and purchase a good one for yourself.
---
| | |
| --- | --- |
| RAM | 16 GB |
| Storage | 256 GB of SSD |
| Display | 3840 x 2160 |
| GPU | NVIDIA GeForce GTX 1650 |
| CPU | 9th Generation Intel Core i7-9750h |
Our best choice for the best laptop for programmers is Dell XPS 15 7590 of the Tech Giant, Dell. This laptop is very feasible and viable for your programming, coding, development, and engineering. The specifications or features in the table tell the story that you will not get disturbed. The system will not get disrupted while you are programming or doing anything.
Moreover, you can also find several other features that lure you into purchasing this laptop. They are 4K UHD OLED InfinityEdge, 12MB Cache, up to 4. 5 GHz, 6 Cores, Sd card reader, Thunderbolt, USB 3. 0, fingerprint reader, and more. One of the essential features is Windows 10. Thus, you can avail of the updated services of Windows.
Have a great experience with NVIDIA GeForce GTX 1650 that makes your PC run smoothly while editing, photographing, podcasting, designing graphics, and gaming.
Pros

Cons

Ergonomic friendly
Bad Flickering while in low brightness
Unstoppable speed
Fan sound burst
Higher-resolution by OLED Display Technology
Squeaky keyboard or sticky keys
Higher efficiency and effectiveness
It becomes too hot while you are charging
Affordable Price
No Ethernet port
Strong coordination among CPU, GPU, RAM, and Internal Storage
---
| | |
| --- | --- |
| CPU | Ninth-generation 6-Core Intel Core i7 Processor |
| RAM | 16 GB |
| GPU | AMD Radeon Pro 5300M with 4GB of GDDR6 memory and automatic graphics switching, Intel UHD Graphics 630 |
| Storage | 512 GB or 1TB SSD |
| Display | 16 True Tone Retina(3072 x 1920) |
Apple MacBook Pro 16 is the best laptop for Apple followers, developers, programmers, coders, software engineers, and system admins.
Apple MacBook Pro 16
This product is the result of feedback from customers from the previous Apple MacBook pro. Like the previous MacBook, this one is also sleek and thin. Moreover, two-tone technology visualizes excellent graphics for programmers.
Apart from these features, six cores save your laptop or workload from crashing and disrupting. 1TB storage enables you to save as many files as possible. Moreover, 16 GB RAM ensures constant multitasking. And AMD Radeon 5300 makes a seamless playbook, quality mics, and great sound systems boost recording and giving clean sound.
Moreover, this laptop is portable because it weighs only 4.3 pounds.
The best thing about this laptop is the amazing 11 hours battery life, which allows you to easily go to some cafe and work with a coffee the whole day, without thinking about wires.
The second thing I like the most is the screen. Apple MacBooks Pro are known for their excellent Retina screens. The colors look naturals, and the eyes are not getting tired after hours of work. The resolution is very similar to classical 4k; just Apple decided to have other proportions.
Last but not least is sound quality.
In the 2021 series of Macbook Pro ( 16″), Apple used new technology in speakers. Quote from Apple official page:
Dual force-cancelling woofers dramatically reduce system vibration for a clearer, more natural sound and a half-octave lower range to the bass.
I am not sure about technical details, but they're the best I've ever heard on a laptop. The bass is deep like my JBL external speaker, but the sound is crystal clear.
MacBook Pro 16 vs. Macbook air 2021.
Be aware that high-quality speakers are not included in the base(cheapest) model.
Also, there is a new feature: Apple exclusive technology, which none of the laptops currently have. Only Macbook Pro. I am talking about the touch bar here. At first, I thought it is totally useless. But when I tried it myself, it appears very handy.
You can bind any functions (including in-app) like screenshots, next/previous song, volume management, and so on. Everyone can add keys that he personally misses.
Unfortunately, it is expensive. Be ready to spend more than 2000$ on that laptop. However, you will get a premium quality laptop from perfectly fit aluminum parts. The build looks very solid and beautiful. I suggest you go to the shop, try to hold one in your hands, and try to do the same with other expensive laptops.
Surely, you will notice the difference in build quality.
If you didn't use Mac before, the interface is very different from Windows. You will probably need to read a guide even how to do screenshots.
Finally, use this laptop to have a great experience in resolution, processing, speed, Bluetooth, Facetime, Touch ID, and other more invincible experiences that will amaze you.
Pros

Cons

Most Productive MacBook
Very costly
Extended battery Life
It May be uncomfortable for Windows users.
Realistic colors Retina screen
New Touch Bar
Best speakers among laptops
---
| | |
| --- | --- |
| CPU | Intel Core i5 |
| GPU | dedicated Nvidia GeForce |
| RAM | 8 GB |
| Storage | 512 SSD |
| Display | Inches 15.6 with 1920*1080 |
Are you looking for the best affordable laptop for programming? Then, Acer Aspire 5 is all you need. This laptop is one of the least costlier laptops available in the market with exciting and unbeatable features.
Its price is around $600. Moreover, this laptop has substantial capability to provide you services of game development and graphics programming.
The integration of Intel 10th Generation Core i5 with 8 GB of memory makes this laptop very special. There is incredible graphics processing that enables your screen to be more significant in terms of video streaming and working. One of the most critical features is the storage of 512 GBs that make you comfortable while saving your bulk of information.
Suppose you expect to develop on this laptop. In that case, you will get excited. It has an excellent keyboard with tactile backlit keys, a battery that lasts up to 9 hours, an extra RAM slot, and an empty disk bay.
Pros

Cons

Most Affordable Laptop
Low processor speed when multitasking
Extended battery life
Lid Opening Problem
Modern keyboard with tactile backlit keys
Speakers are low
Ergonomic friendly
One of the lightest laptops because it weighs only 3.7 pounds.
---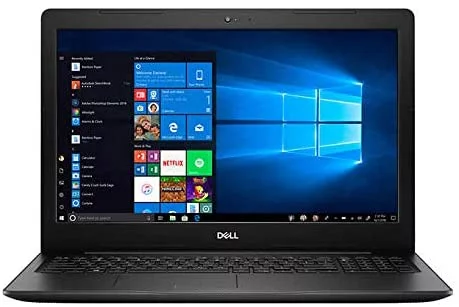 | | |
| --- | --- |
| CPU | Intel 4-Core i5-1035G1 (Beats i7-7500U) |
| RAM | 32 GB |
| GPU | Intel UHD Graphics |
| Storage |  1TB SSD (Boot) + 1TB HDD |
| Display | 15.6 inches Touchscreen Truelife LED-Backlit FHD (1920×1080) |
Dell Inspiron 15 3000 is one of the best laptops for programming in 2021 from the tech giant Dell.
This laptop is exciting for programmers because it has a massive storage of 1TB SSD plus 1TB HDD that enables you to have a significant data saving.
Moreover, its processor is 10th Generation Intel Core i5 with up to 1.0 GHz base frequency and 3.6 GHz with Intel Turbo Boost Technology.
With 32GB RAM, you can efficiently multitask simultaneously without any disruption in the system.
Intel's UHD Graphics with excellent display enables you to view videos and screen without any stress.
Apart from these things, wireless connectivity like WLAN and Bluetooth, HD webcam, battery up to 5 hours, various ports, and other multiple things make your programming easy and efficient.
Thus, purchase this laptop to have a wonderful experience while you are coding in 2021.
Pros

Cons

Massive storage
Bluetooth trouble
Use of Intel Turbo Boost Technology
Gets slower
Fast and easy multitasking because of 32GB RAM
Poor Packaging
Exciting Graphics and Display
Easy to use, relatively
---
| | |
| --- | --- |
| CPU | 10th Gen Intel Core i7 |
| GPU | NVIDIA GTX GeForce |
| Storage | 256GB SSD |
| RAM | 16GB |
| Display | 3240 x 2160, (260 PPI) Pixels |
This laptop is the best for all Microsoft Offices and programmers in 2021.
It is Microsoft's most powerful laptop because it has quod-core power, 10th Generation Intel Processor. Even this Surface Book 3 is faster than Book 2 by 30% in processing. Moreover, NVIDIA GTX GeForce GPU makes this laptop significantly faster in graphics compared to other laptops.
Amazingly, its battery life is up to 17.5 hours. There is also a standby for extending the life of the battery.
The coordination of 16GB RAM with CPU makes this laptop significantly faster for programming and running all offices simultaneously.
Apart from these features, there are multiple things like two lithium-ion batteries, touchscreen with the pen, Windows Ten as operating System, etc.
Therefore, you will surely enjoy when you use this laptop for your coding or programming.
Pros

Cons

Latest Model from Tech Giant
Built-in Speakers are doing well.
Fastest Surface Book
Extended battery life
It can be a laptop, tablet, and studio
---
| | |
| --- | --- |
| CPU | Intel Core i7-10510U |
| GPU | GeForce GTX 1650 |
| RAM | 16GB RAM |
| Storage | 512GB SSD |
| Display | 15.6 inches with 4K UHD 4-way NanoEdge bezel |
ASUS ZenBook 15 is the best laptop with 4k UHD 4-way Nano Edge Bezel Display, which has up to 92% screen to body ratio.
This laptop has a very innovative screen pad that effectively regulates multitasking with a 5.65-inch interactive touchscreen.
Moreover, it has a 10th Generation Intel Core i7 Processor that minimizes your programming timing and 16GB RAM.
It has fast storage technology. In other words, you will not get disrupted while you are saving multiple files on time.
As far as advanced technology, this laptop uses Amazon Alexa Voice Service, which includes entertainment, gaming, information, and more. And there is also Windows Hell through which you can log in by using facial recognition technology.
Apart from these features, there are other things like Windows Ten as an operating system, one battery, and other features that make it attractive to buy for coding in 2021.
Pros

Cons

4k UHD 4-way Nano Edge
Not for USB-C Thunderbolt
Compatible with Amazon Alexa
Facial Recognition with a built-in camera
Creative Screen Pad
Great Graphics features
---
Summary
The programming requires a lot of speed, storage, RAM, great display and resolution, and other features. Thus, the laptops for programming must also contain the recommended elements. The architecture laptops might be similar to those above, but still, they differ in a few aspects.
Moreover, all these laptops are for programming, coding, system and software development, and system admins. You can shop for all these laptops either by visiting the vendors or Amazon.com.
While you are shopping, you should consider at least five specifications: CPU, GPU, Display, RAM, and Storage because they are very vital in deciding the performance and utility for your programming.
We recommend that the CPU always be of Intel because it is the best vendor or manufacturer of processors globally.
As far as our choice, Dell XPS 15 is our first choice in buying the laptop for programming. XPS 15 has versatile features that make this laptop very effective and efficient in developing software, programs, and other things.
Whether you are a student or professional, Dell's laptop will optimize your working experience.
Before buying any laptop, try to go through all laptops' features because a few specifications are not sufficient for deciding it. The cost can be a hurdle for you, as most laptops are costly.
Thus, there is also the most affordable laptop that you buy for programming.
However, if you have enough money, nothing is better than Apple Macbook Pro 16.
Laptops for Programming and Coding – FAQs
---
Which is the best storage facility, SDD vs. HDD?
Every laptop has one of the two memory drives: Solid Disk Drive(SSD) or Hard Drive. A programmer needs speedy work. Thus, you cannot use the Hard drive because it is too slow. Go for Solid Disk Drive, which is much faster. This SSD is also available in very high-end laptops. If you want to purchase and have budget constraints, you will have to choose the HDD laptops.
Which operating system is best?
There are two major operating systems in the market, namely Windows and Mac. If you find a laptop with these systems, you will have to get worried. However, we prefer you to buy Windows because it is more affordable than Mac. For Apple Ecosystem Developer, Mac is essential. Apart from these OS, you can purchase Linux when you are PHP, Ruby on Rails, and Python Developer. Thus, Mac is necessary for Apple Developers and Windows for all developers.
Which is the best processor?
Programmers must have powerful processors for processing. If you have budget constraints, you can go with Intel Core i3 for coding. However, if you can afford it, you can purchase Intel Core i5 or i7 because they help you a lot as a programmer.
Why do programmers need to buy laptops with higher RAM?
Programmers do not use only one application. They open multiple applications like web browsers, compilers, editors, and other coding things. Simultaneously running the programs or applications smoothly and effectively, there is a need for RAM that handles more applications without the crash.
How to find ergonomic Laptops for Programming and Coding?
As a programmer, you will expose to laptops continuously. Thus, we recommend that you buy the laptops with an IPS display because they reduce eye strain. Moreover, there should be a backlit keyboard for comfortable typing and a light and compact design for easy movements.
Download 6 Best Laptops For Programming Coding mp3 file
Thank you for reading!
---