Post Menu and Details.

Words: 1535

Reading time: ~6 minutes
One of the influences the covid-19 pandemic had on humankind during the lockdown was the need to get groceries without leaving the house. According to WHO, people were afraid of contracting the virus, and the best way out was to stay indoors.
Even though instacart was fully operating before the pandemic, they had a remarkable turnaround during the lockdown. The company offers groceries delivery services, whereby people are allowed to select their groceries online via the instacart app.
At instacart, there are numbers of shoppers, those who package customers' orders. Another category of instacart workers is the drivers that pick up the orders and deliver them to the customers.
Due to the voluminous order, there was a massive rise in the demand for workers at instacart; for fast deliveries. Instacart ensures customers' orders get to them in a few hours or highest in twenty-four hours, depending on their locations within the country.
Moreover, when trying to package orders, an accident may occur due to the speed of activities in the company. Also, the drivers spend many hours driving, which increases the chance of accidents. It's right to say that accidents are one of the job hazards at instacart.
Therefore, Instacart drivers and shoppers need to get their cars and themselves insured since personal insurance may not cover incidents related to delivery services. This article will help you find the best insurance that won't eat up all your earnings when covering you or your car against unforeseen incidents.
Instacart Insurance: Everything You Need To Know
Before making up your mind to be a shopper or delivery entity at instacart, it is vital to find out about Instacart insurance. It could be your car or a rented one. Instacart does not give drivers the vehicle to work for them; it's your duty to get a car. Just ensure the car is up to the task.
So, Instacart refers to their workers as independent contractors, which means they are responsible for their personal and car insurance. This is in the contract the workers signed with the company before working for them.
Unfortunately, instacart does not offer its workers any form of insurance. If the company decides to provide insurance in the future, it may follow the pattern of other popular delivery brands. That means it may not offer full coverage.
Therefore, it's essential to find other ways to insure yourself or your car. Note that instacart made it compulsory for their drivers to insure their vehicles, among other requirements, to qualify to work for them.
Hence, it's advisable to have commercial auto insurance if you plan to offer courier services for instacart. That will give you peace of mind as you drive around delivering people's orders, knowing that you are a legal driver that's fully covered. In addition, whatever insurance you are opting for, ensure you meet the requirements of the insurance agency and your state.
What Happens If There Is An Accident When You Are Delivering For Instacart?
Since instacart doesn't offer any insurance, what will become of you or your car if there is an accident? It is simple; you sort it on your own. If the accident involves a third party, perhaps you hit someone, or it's just about you and your car; it is your burden to bear.
It's a rule of thumb that if your insurer gets to know that you are a delivery driver, they may increase your premium by 50%. If you keep the information away from them until an accident occurs, it can worsen. The insurance company may cancel your policy.
If it turns out that the insurance company cancels your policy, then it may become a significant financial challenge for you. You may spend thousands of dollars repairing the damaged vehicles, yours, and any other car involved. You may be lucky and spend less if it's your car only and the damage is not much, yet you will burn some dollars on it.
If there is any injury, the medical bills will add up to the expenses. If an accident is fatal that leads to death, then a death suit can cost you millions.
Besides that, the department of motor vehicles in your state may suspend your drivers' license and revoke your car's registration.
The best decision is not to avoid insurance that will cover you as an independent contractor for instacart. It will cost a few dollars, which is much less than what you will spend if an accident occurs.
The most lenient state is New Hampshire, and that is the only state that does not have compulsory liability coverage. However, if you stay in this state, you must still be able to show proof that your vehicle has been insured for three years to drive legally. Therefore, you need the right coverage with a commercial automobile policy as a delivery driver.
Are There Any State Requirements For Driving With Instacart?
As said earlier, instacart does not specify the type of vehicle you can use to work for them but ensure the car is capable of the job. All the company requires is that your car is insured to be qualified to deliver for them.
Insurance companies in each state in the United States of America have their own specific and compulsory minimum requirement to drive legally in the state. Most of them also have policies and information as regards courier services. The NAIC (National Association of Insurance Commissioners) usually moderates these requirements.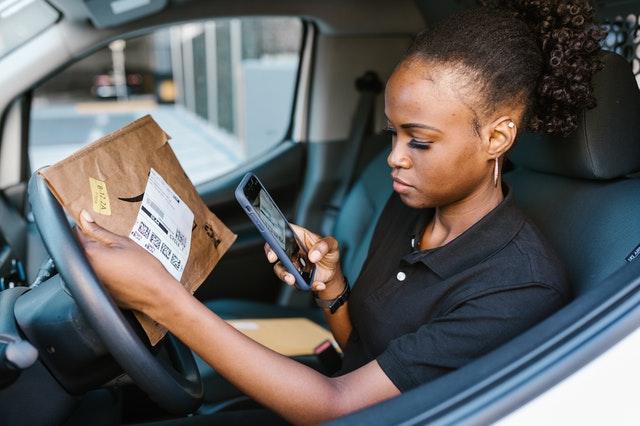 The Best Insurance You Need As An Instacart Driver?
There are two primary options available for you as a driver for instacart. The first is a rideshare coverage policy from auto insurance. This type of policy is the most popular insurance that people use if they deliver goods, foods, etc., for instacart, amazon, and the like. You can get the policy from your personal auto insurance agency.
Second is the commercial auto insurance policy that is known for business use. This is a stand-alone policy that you can purchase from a private auto insurance agency. However, if the first option is not available from your insurance agency, consider the second option. Although, the majority of the insurance agencies offer rideshare insurance policies.
Rideshare policy covers the driver when using the car for business purposes for brands like instacart. The good thing about this policy is that it is more affordable than commercial or business-use policies. It is easy to add rideshare coverage with one's existing policy with the insurer to stay secure when delivering.
If you deliver for instacart part-time, you can talk to your insurer for a business add-on. According to your insurance, this business add-on will always cover you for the hours you work for instacart. Your insurer may demand a little extra fee, but it's always cheaper than the commercial policy.
What's The Best Rideshare Insurance Provider?
If you are new to the auto insurance system and don't have a personal auto insurer yet, you can check some private insurers. Private insurance agencies often offer rideshare policies. Before selecting any private insurance companies, do well to compare more than two of them.
The best insurance agency that offers rideshare policy should offer robust policy limits, huge coverage options, easy purchase options, and affordable premiums.
Why Not Use Personal Insurance For The Car You Use For Instacart?
It has been said before that you get a car on your own to run the delivery business. However, this car is no longer for personal use but for commercial purposes. So, using your vehicle to make money makes it worth changing your insurance policy.
That's so because, when driving to deliver goods to customers, you may speed up to meet up with time or lose total concentration, which may lead to an accident. Most delivery drivers have a personal insurance policy. Still, as soon as they realize it doesn't cover their vehicles because of the nature of their job, they quickly consider auto insurance. However, the commercial or business-use policy primarily covers you when rendering your services to instacart.
Specifically, you should confirm if the business or commercial policy covers instacart delivery drivers from your insurer.
Make Use of Discounts to Reduce Your Auto Insurance Cost
This tip is to help you save a few dollars. Since you are paying for your car insurance, you need to be smart.
Here are a few tips:
Insure two vehicles and use the older one for delivery.
Use an insurer for a policy covering your house if you own one and your car. The company may offer you a discount.
Use the mobile app to monitor your driving habits, which could make you worthy of a discount for safe driving habits.
If you pay in full from the start or the policy for six months or a year, the company may give you a discount.
Conclusion
There are myriads of insurance companies that offer coverage to delivery drivers. However, each of them has its pros and cons. It is your duty as a driver for instacart to select the one that offers you the best coverage that suits you.
Also, don't forget to consider your income when selecting an insurer. Note that a high rate does not always mean the insurance policy will offer the best coverage. The best choice for you is the affordable one that will still provide you with the necessary coverage. To be safe, check out different insurers and their customer reviews before choosing.
Thank you for reading!
If you liked this post, check out these too:
---