Post Menu and Details.

Words: 1135

Reading time: ~5 minutes
It's been more than 20 years since the concept of the self-media era was first introduced in 2000, and with the addition of TikTok and Instagram, we have indeed entered an era in which everyone is an amateur photographer and vlogger. In addition to the increased awareness of copyright, people now add their own logos to their works before they are ready to post those pictures and videos on social media. Of course, the reason may be more than just to prevent others from plagiarizing. Logos can also be the quickest way to promote the brand or to spread the word about who owns this art.
Humans also happen to be visual animals, and watermarks, while they can be used to assert sovereignty, can also take the attention out of the main subject. So sometimes, we will also discard the watermark for quality. If you want to add and remove watermarks at the same time, you need a very useful tool.
And that is when WorkinTool Watermark Eraser comes to the rescue. It is an all-in-one watermark software. In order to meet users' various watermark requirements, WorkinTool has got the latest technology built into this little software. So, users can choose to manually or let it automatically remove annoying watermarks. For adding logos, users can modify to use text or images. Moreover, it is 100% FREE right now. Now, let's take a closer look at the watermark freeware.
WorkinTool Watermark Eraser
Pros and Cons of WorkinTool Watermark Eraser

😍 Pros

😢 Cons

Easy to use for all age
Currently Windows only

Safeguard all output files

Lack of entertaining features.
Process watermark in real-time
Completely FREE without limits
Rapid process speed to save time
Interface and in use
Once you've downloaded and opened the WorkinTool Watermark Eraser, you'll see a very simple and clear interface. On the main page, there are eight completely different features for users to choose from. From adding or erasing watermarks to images and videos to editing video duration and image content, it gives users a totally fresh and excellent experience.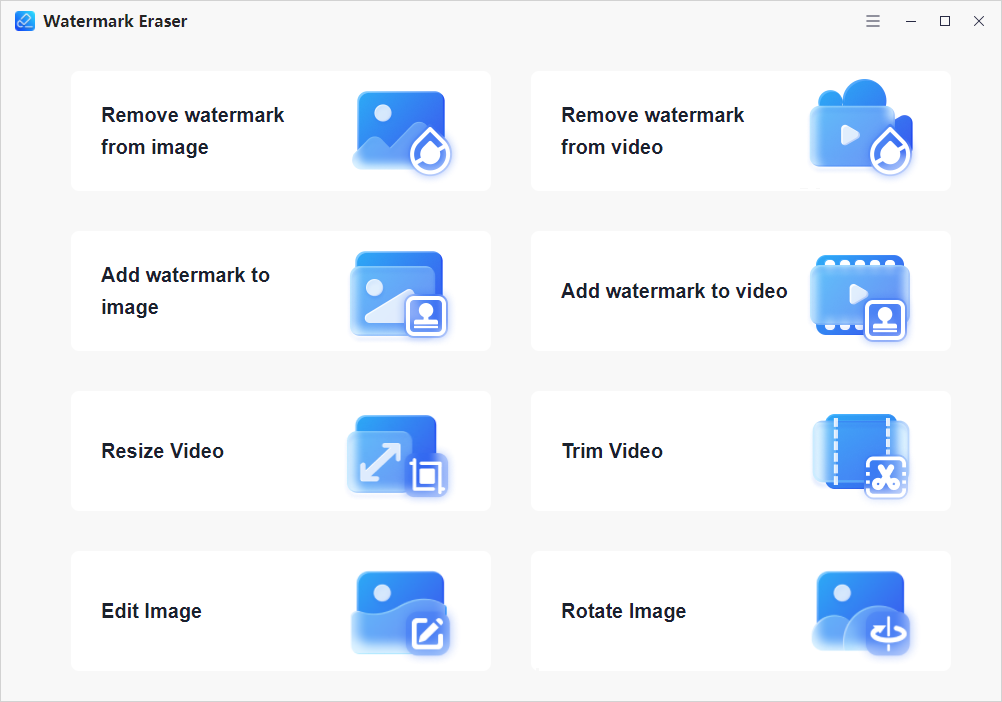 After we tested it on all the common PC computers, we were pleased to find out that it worked perfectly on the Windows system. Even on Windows 11, it is still impressive. But unfortunately, it currently has not a compatible version for the Mac system. Hopefully, it will get online very soon.
Features
Below we will divide the functions in this software into four different kinds to introduce in detail.
Watermark Removal
Adding Watermark
Basic Video Editing
Image Content Editing
Watermark Removal
Remove the watermark from the image
The first part on the main page, of course, goes to people's favorite function – the watermark eraser. Its overall layout is very simple and clear. The toolbar at the top presents the tools and effects that users can use, and the middle part is the current image processing real-time screen.
As we all know, the watermarks usually are located in different places. In order to remove them without ruining the original picture, it is necessary to find the corresponding methods. And clearly, WorkinTool is one head of us. This software is equipped with two watermark selecting boxes and four different removing effects. Each one is designed for a specific situation. Of course, if the effect is not satisfactory, you can always reverse the process. It's up to you.
Remove the watermark from the video
It's much easier to remove a watermark from a video than from an image. There is not that much of a feature to choose from, just an option that lets you add boxes. The good news is that users can customize the size of the box and of course, the start and end time.
Adding Watermark
Add a watermark to the image and video
It's been tested that its watermark feature has the same operational options for adding watermarks in images and videos, so I'll show you the image way here.
Add text
Now that we have finished with the function of the watermark let's see how to use this software to add a watermark. When I add an unwatermarked image, it prompts me to select the text watermark or an image to insert as a watermark. Here I chose text first.
So here, it's divided into left and right sections. On the left is the body of the inserted image, and on the right is the text option that the user can modify. Users can type up to 20 characters or less. Although the restrictions are tight, a watermark should be enough. In addition to the subject text section, users can also adjust the font, font size, color, transparency, and, most importantly, placement.
Add logo
If we choose to insert another image as a watermark, it is mostly used for the logo. In general, the inserted logo has already been handled ready and does not need too much adjustment. With this in mind, the built-in interface is very simple, with only four options: resizing, transparency, rotation, and placement.
Certainly, if you want to create a new one without a logo, you can use its image editing feature, which we'll cover as well.
Basic Video Editing
Resize Video
In addition to the watermark-related functionality, you can also use it for other image and video operations. Video resizing and trimming, for example. For to cut the video displaying screen, you are offered to adjust the X and Y-Axis. If you are a pro here, you can directly type in the exact number of the wanted width and height. However, if you are an amateur person like me, it also provides a fixed screen ratio for different uses.
Trim Video
If you don't like lengthy movie previews as much as I do, maybe you can try the trimming feature. With it, you can customize to set a specific time for when the video will start and end. It doesn't matter if you don't know the exact time, you can do the same by pulling the timeline below. And when you're done, you can use its preview function to check what you've done.
Image Content Editing
It also takes care of the image processing function. In fact, its editing function is very complete. You can perfectly create a logo as mentioned above if you use it properly. In addition to basic resizing, brightness, color contrast, shading, and other values to your images, you can also add filters, frames, layers, and things that can enrich its content. You can even add a watermark to the image here by using the sticker feature. Isn't that amazing? And the rotation is no problem at all.
Conclusion
After our detailed user experience, we can responsibly tell you that WorkinTool Watermark Eraser is absolutely an outstanding watermark software among all those similar software on the Internet. With its clear, simple interface design and thoughtful features, it's hard for me to single out one fatal flaw. If anything, it's probably the only thing that it doesn't reach Mac and mobile users. Hopefully, it will achieve it in the future.
Thank you for reading!
If you liked this post, check out these too:
---