Post Menu and Details.

Words: 1142

Reading time: ~5 minutes
When traveling in remote locations, it's important to still stay connected online to check out updates happening outside your travel location. However, it can be difficult to find consistent internet access when off the grid. Thankfully, there are excellent solutions to these problems.
Off-grid internet is a great way to get high-speed internet access in remote areas. And it's easier than it seems, particularly if you don't have a lot of experience on how to set up off-grid internet. Just be sure to keep your costs down and do a lot of research before you actually jump in and try it.
Why Surf the Web Off-Grid?
You might be surprised to know that gaining internet access off the grid isn't only for traveling purposes. More importantly, surfing the web off the grid is the first step toward the ultimate freedom of being able to surf the internet wherever you want, whenever you want. Once you get your system set up. You can go on the Internet as much as you want, even when you don't have access to a computer.
Moreover, accessing the internet off-grid contributes to eliminating your digital footprint. Once you step into the online world, you can be tracked using the digital footprints that you leave every time you use the internet. With off-grid web surfing, you can access the internet more safely by following these instructions: securitygladiators.com/erase-digital-footprints/.
Another reason why you should learn how to surf the internet off-grid is to save money and keep the environment clean. By learning off-grid internet access, you can save yourself from paying for expensive phone bills and internet service. Many people still don't understand how valuable the internet is to their daily lives. You can learn to surf the web off-grid by following a few simple steps. If you follow these steps, you'll be able to surf the internet free from having to pay for any type of broadband services such as cable or DSL.
With this in mind, here are different ways and tips on how you can surf the web off-grid:
1. Use Your Smartphone
With the peak of internet use witnessed in today's era, most
people are only aware of connecting to Wi-Fi to obtain an internet connection. Once they lose this option, they initially think that it's the end of the world. However, you can simply use your cellphone. If you're currently in distant locations, there are higher chances of having a cell tower within your area than Wi-Fi access.
Having a smartphone with a data connection allows you to access the internet. Essentially, using a cellphone is one of the most affordable ways to surf the web off-grid. Also, you're not only limited to one screen of your phone, as you can turn your smartphone into a wireless hub by activating its hotspot where more devices can connect.
If your purpose to go off-grid is about travel. You must first ensure that your chosen carrier covers your desired travel location. Therefore, preparing this ahead travel is paramount. To do this, examine the coverage maps of these carriers and see how strong the signal is on your travel location.
2. Step Back Through History Using Ham Radio
Long before the internet existed, there was already the amateur radio, more popularly known as the ham radio. Surprisingly, you can also use this to access the internet unconventionally.
To obtain internet access using the ham radio, you need to use a radio messaging system such as Dstar or WinLink, which uses a technology called the Packet Radio technology.
Along with knowing how to use it. You should also know the drawbacks of using the ham radio when surfing off the grid: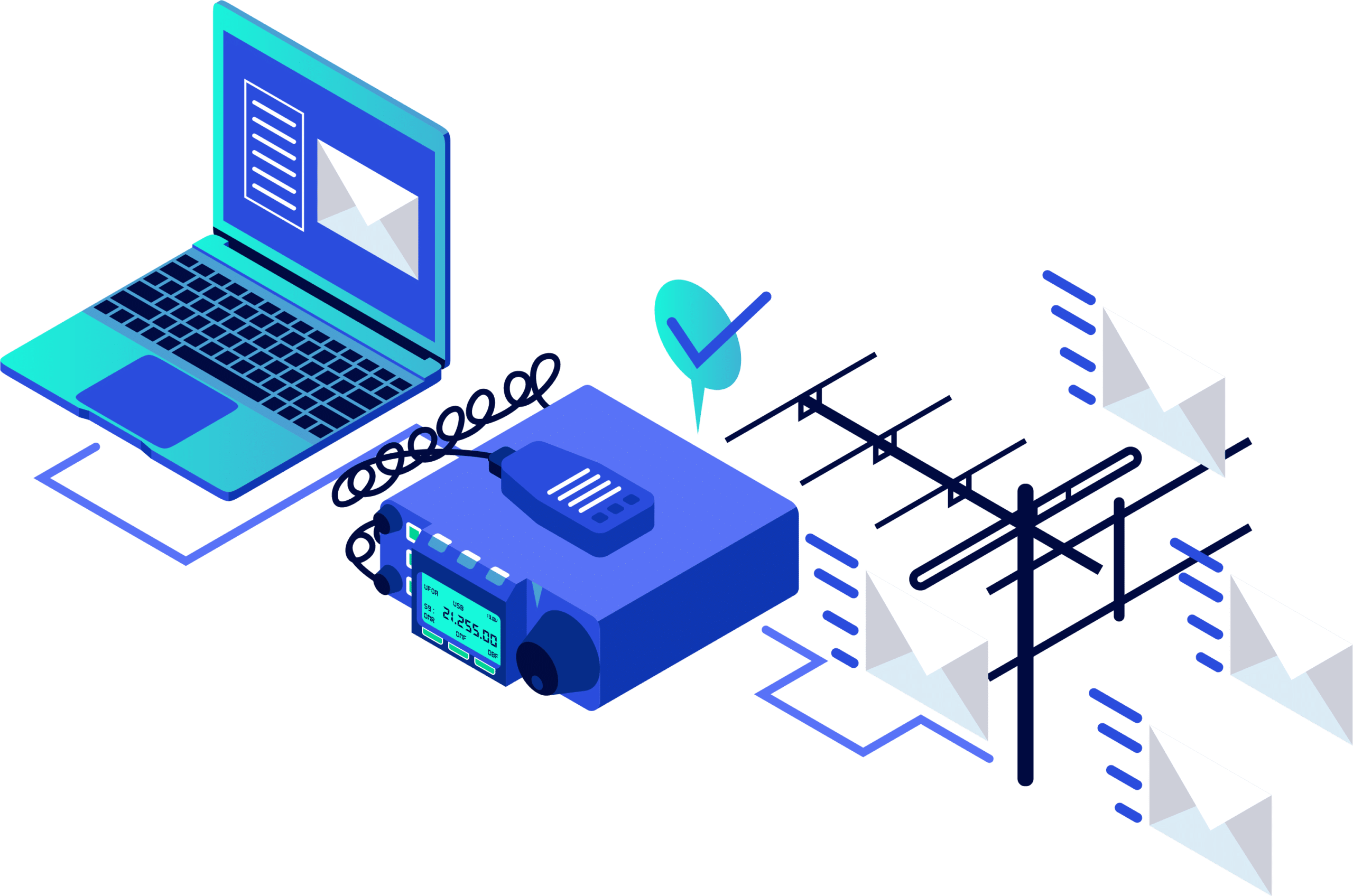 3. Connect Via Satellite Internet
Another option is to go off the grid is to connect through another type of internet – the satellite internet. Satellite internet is beneficial for users at large distances from a cell tower or hotspot. If you're traveling far away or moving off the grid for good, hiring satellite internet service providers is a worthy investment. You can simply search online or in directories to which companies offer satellite internet within your desired off-grid location.
Despite being in desolate locations, satellite internets are on par with a regular Wi-Fi connection. With this, you can do a lot of heavier internet activities such as uploading, downloading, and streaming. Some companies even offer the option of adding a satellite television to your bundle package.
4. Build an Off-Grid Setup
Off-grid laptops require a large amount of electricity, and they often rely on windmills or solar panels for electricity. Some of these laptops require extreme work and budget. Thus, start with a basic model and then build up from there, once you've identified the right configuration fit for your off-grid surfing needs.
Before buying an off-grid laptop, you should know your needs and how to connect your laptop to the grid. The best place to start is by looking online for information about off-grid laptops. This will give you an idea of what you can expect and what to look for. If you're trying to do any serious work online, you might want to consider a hybrid type of laptop that uses a battery to power it, as well as the traditional electricity connection.
How to Surf the Web Off-Grid: Conclusion
With a high-quality off-grid internet connection, you can still stay updated with current events and keep connected with your loved ones without any compromise. To take full advantage of living this way, you need to understand how it works. Also, an off-grid internet connection can help you find your needs such as products and services at a much lower cost. Not only will you get great deals online, but you will also get quality information with more options. This means you won't miss out on anything despite living off the grid. It may sound a bit extreme but accessing the internet using unconventional ways can make a huge difference to your life.
If you're interested to shift to off-grid internet access, now isn't the time to hesitate. This article will help you choose which method to try and stick to in terms of having an internet connection off the grid: using your smartphone, ham radio, satellite internets, and an off-grid laptop.
Bonus video: Becoming Anonymous: Surf the Web Off Grid
How to Surf the Web Off Grid FAQs
---
Can WIFI work without electricity?
No, it can't be. The router is an electrical device, so it can't work without power
What is the fastest satellite internet?
Viasat is the fastest satellite internet in the world right now. It has internet at speeds up to 100 Mbps.
How fast is 4G LTE?
4G LTE is 10 times faster than 3G with highest download speeds approaching 50 Mbps

1. Download speeds between 5 and 12 Mbps

2. Upload speeds between 2 and 5 Mbps
Thank you for reading!
---