Ubuntu is a full and comprehensive Linux operating system which is freely available with professional and community support. The manifesto of Ubuntu states that all the software should be available for free of cost. They also believe that the software tools should be available for the people to use in their local language, and they should have the ability to customize and change.
Ubuntu has been developed by a company called Canonical Ltd and has an open-source model.  The initial release was on 20th October in the year 2004. The software mainly targets cloud computing, IoT and various business computers and personal servers. Ubuntu is available for more than 55 different languages.
With Ubuntu, an individual can surf the web, create different documents, read and write emails, create spreadsheets etc. Ubuntu provides you with the power of flexibility for different types of businesses, education and personal use.
Ubuntu is also free of various types of viruses, is comprehensive and easy to install into your system, and acts as a perfect software for your desktops, PCs and server systems.
Features of Ubuntu
Contains a wide range of software that includes LibreOffice, Firefox, Transmission, Thunderbird and games such as chess and Sudoku.
Operates under the General Public License (GPL)
Users have the option of minimal installation. It minimizes bloatware and enables the user to install applications of their personal choice.
Xorg is the default display server
Presence of Linux Kernel 4.15
Welcome desktop screen and many help and assistance pages.
Native support available for colour emoji's
Users can now find the option of enabling a live patching system in the software and updates.
What is Ubuntu used for?
As discussed earlier, Ubuntu is an open-source Debian-based Linux distribution system that is sponsored by Canonical Ltd. It is considered to be a sound distribution system for beginners. The operating system was intended primarily for personal computers (PCs), but it can also be utilized on servers. The word "ubuntu" is from the African Zulu language and translates as "humanity to others." Canonical Ltd. adds new releases of Ubuntu at six-month intervals along with a minimum 18-month security-update commitment for each release.
Variants of Ubuntu
Ubuntu Server Edition
Ubuntu Studio, for multimedia applications
Edubuntu, for educational institutions and homeschooling
Kubuntu, a version that employs KDE (Kool Desktop Environment) instead of GNOME
Xubuntu, for computers with limited processing power
JeOS (just enough OS), a lightweight version for virtual appliances.
Why should I use an Ubuntu server?
Ubuntu is a user-friendly application: Most of the internet users perceive Linux-based systems to be difficult to work with although we can agree that it is definitely a considerable misconception and therefore Ubuntu acts as a perfect solution. Similar to Windows, the Ubuntu Linux application is easy to use and completely user-friendly.
Ubuntu is entirely free to use: This is one of the most important reasons why most of the people resort to using the Ubuntu server. It doesn't cost a single penny to download, install, launch and use the Ubuntu Servers.
It is completely safe and secure to use. Ubuntu does not come with any viruses or bugs. Ubuntu comes with a built-in firewall and anti-virus protection method.
4. Customization: Users can fully customize their systems using the Ubuntu servers. If you are not comfortable working with a specific type of environment, you can always switch up or change with another theme and experiment with something new.
Shallow system requirements: The default Ubuntu systems do not require high-end commitments to it. The suggested hardware specifications are 700 MHz processor, 512 MB of RAM space and a 5 GB hard disk.
Availability of free software: Ubuntu comes with a wide range of software that can be easily downloaded and installed from the software system. For fundamental to intermediate users, Ubuntu comes pre-installed with Firefox, Gimp, Chromium and VLC.
Wholly supportive and active Ubuntu community.
Improved compatibility with each new update: the original versions of Ubuntu come with the latest Linux kernel versions.
Open-source software system.
Easy to use and comprehensive user interface.
Zoom for Ubuntu – How to download Zoom for Ubuntu in 2019?
Zoom is a popular chatting tool for video communication, online meetings, screen sharing, video conferencing, etc. Zoom offers an engineered experience, and it is optimized to work reliably. It is easy to install, use, buy and scale.  A most popular operating system such as Windows, Linux, Mac, and Android support the Zoom application. This software can, therefore, be deployed and used in various applications such as desktop, mobile, tablet computers, etc. Zoom is one of the most affordable solutions for businesses, is straightforward and has a subtle pricing price.
Features of Zoom for Ubuntu
Essential zoom conference feature comprising of HD video and audio sharing, HD screen sharing, and IM / presence.
Establishing a chat session with over 500 video respondents and participants across a variety of devices–such as desktop, mobile, zoom rooms, and room systems H.323/SIP.
The notable partnership includes MP4 recording, video breakout, meetings and conference rooms, co-annotation features, etc.
A unique facility of enterprise-grade security in business plans, with AES-256 bit end-to-end encryption
A broad dashboard of support for various Linux OS include
Ubuntu 12.04 or higher
Mint 17.1 or higher
Red Hat Enterprise Linux 6.4 or higher
Oracle Linux 6.4 or higher
CentOS 6.4 or higher
Fedora 21 or higher
OpenSUSE 13.2 or higher
ArchLinux (64-bit only)
Installing Zoom for Ubuntu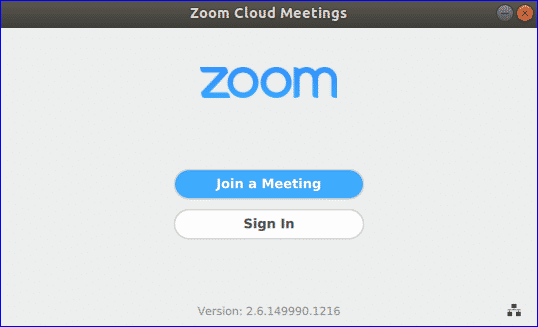 Zoom supports many popular operating systems such as Windows, Linux, Android and Mac.  This software can be installed and used across various devices. You can also install zoom meeting for Ubuntu. But before you do that, here are few key points you should know before installing zoom for Ubuntu:
Minimum Requirements before downloading zoom for Ubuntu
The operating system should have the Ubuntu version of 12.04 or anything with the latest updates. It should have a Firefox 3.6 web browser and single-core 1 GHz or a higher processor are some of the necessary hardware requirements. Your system should have at least 4 GB of RAM free. We recommend a wired-in connection whenever possible for the best experience in a LiveOnlineUT (Zoom) high-definition meeting. The application will automatically adjust for environments such as 3 G, WiFi or Wired. However, we suggest a wired-in link to completely utilize the application for high-definition audio, video and screen sharing.
Speaker and microphone (USB headsets for best sound are suggested).
How to Download Zoom for Ubuntu?
Zoom is a cross-platform video communication tool that works across various systems such as that of Windows, Mac, Android and Linux operating systems. To install the zoom meeting Ubuntu for a Linux version 16.04 and 17.10/18.04 desktop versions, follow the given steps mentioned below.
To enable the download for the Zoom application, follow the link https://zoom.us/download?os=linux and select the text as Ubuntu systems. A 64 bit should work well enough if your order can support it.
Then download it to your desktop, and it gets transferred to your home screen's Downloads folder.
Once you finish downloading it, the next step is to navigate to your home-screens download folder or the destination folder where you earlier saved the file.
Right-click on the downloaded file and then click on Open with software.
Once the Ubuntu software opens, click on the install option to begin the installation.
That should prompt you to type and confirm your password before you can continue with the launch.
When you're done, the Zoom application should be installed and ready to use.
To launch it, go to the Activities Overview and search Zoom and start it.
Now you sign in with your account credentials or click the button to join a new meeting or conference.
Conclusion
In a nutshell, we can say that not everyone these days and in this generation uses a Linux operating system, but everyone depends on it in one way or another. We may find it hard to understand, but many computing elements and aspects related to it include using and relying on the Linux scheme–the android smartphone you're using, millions of servers hosting cloud-based services, supercomputers crunching substantial information and numbers to provide us with weather forecasts and power exploration opportunities, etc.
The engineers that work in Linux-based firms need an effortless way to communicate without having to leave their ways of using the default operating system. That's why Zoom for Ubuntu offers support to Linux at close parity with its Mac and PC clients.
Other videos conferencing communication solutions say they support Linux, but it's essential to dig into the authenticity of those claims. Do they provide full support for Ubuntu, or serve as the benefactor of minimal functionality?
Unlike its notable competitors, Zoom has a dedicated Linux client team. This the reason why many enterprise tech customers have made a switch to Zoom for Ubuntu to utilize the full range of services that are offered exclusively on a Linux-based platform.
Summary
Reviewer
Review Date
Reviewed Item
Author Rating