Post Menu and Details.

Words: 3258

Reading time: ~13 minutes
Ever since Mac products from Apple hits the market, there has been a myth that is generally circulated that Mac computers can't get viruses, and users, therefore, do not need to install any antivirus software that blocks viruses. While this is not a completely true situation because this myth has left thousands of Mac devices vulnerable to all kinds of viruses and malware attacks making it easy for cybercriminals to have access to Mac users online activities as well as all of their private information are at risk but thanks to Intego antivirus which has specifically tackled this problem with the release of their antivirus software program.
The best description for Intego antivirus.
Intego Antivirus is a security software suite for Mac and one of the first companies to develop security tools designed exclusively for Mac operating systems. The antivirus company is a leading provider of cybersecurity software for Mac because it has consistently received high marks in independent testing laboratories and offers a full range of features including antivirus software, firewalls, backup, data protection, and anti-spam.
Right now there is a limited deal with 50% off, this link will automatically add discount.
Intego users have various antivirus package plan options to select from, such as Internet Security X9, Mac Premium Bundle X9, ContentBarrier Secure X9, and Washing Machine Secure X9.
It's a balanced and easy-to-use anti-malware software for Mac users that offers robust security in a package that will keep most viruses and other malware out of your macOS.
You don't need to install the latest version of macOS as this suite of apps is compatible with OS X 10.8 and higher. However, prices add up when you add multiple devices to the plan or include dual protection (PC and Mac).
Convincing Mac user on getting an antivirus isn't an easy task but, in this article, we will be discussing more why you should consider Intego antivirus for your device security and protection. We will also be giving answers to some intriguing questions that you are likely to ask about the antivirus software.
Do Apple devices need virus/malware protection?
Although Apple's security infrastructure is less susceptible to viruses or malware than Windows due to the Unix system architecture, attacks on macOS in recent years have made it clear that this is not the case with Apple products. infallible. What can Apple subscribers do to effectively protect themselves from malware? In contrast to antivirus programs for Windows, the selection is rather limited under macOS.
One of the few providers that are fully committed to Apple is the antivirus provider Intego. The Seattle-based company has specialized exclusively in virus protection for Apple products since 2011 and offers a range of solutions that protect both the Mac and the network.
Is Intego antivirus software really safe for Mac devices?
Intego antivirus software is safe, although Windows protection is more limited than that of many of its competitors. Intego doesn't offer VPN protection to its users but the company usually recommends its sister company 'Private Internet Access' and this VPN provider can be installed on all kind of devices which includes Mac, Windows, and Linux computers, as well as iOS and Android devices.
Will Intego antivirus protect me against rootkits?
Yes, and this is because the Intego antivirus has a feature such as VirusBarrier which can detect and remove rootkits.
Why Choose Intego antivirus Mac Internet Security?
Since Intego Antivirus is primarily focused on Macs, it adapts well to samples of malware targeting that operating system. The AV-Test Institute and AV-Comparatives have tested and certified this product as a security system for Apple devices.
Yes, Mac malware is not as diverse and widespread as Windows malware. However, both labs have the capabilities to test the reliability of Intego. The antivirus detected 100% of all Mac malware during the test. Also, it got the best result by fighting PUAs and unwanted spam programs.
After installation, Intego antivirus will require its users to restart your Mac before use. Such a requirement isn't required from other Mac antivirus utilities that were checked. After restarting, enter your serial number, enter an email address, and choose your coverage level.
At the minimum level, the Virus Barrier component will only protect you from Mac malware. The default recommended level adds Windows-designed malware detection so your Mac doesn't accidentally leak it. At the maximum level, ZIP files and other archives are scanned.
Will Intego antivirus slow down my device?
In most cases, Intego antivirus is relatively light, even if you've selected the most CPU-intensive settings labeled Maximum. After completing the system checks, each product may consume some CPU memory. However, you can reduce CPU usage by selecting the "Scan with low priority" setting in the VirusBarrier settings.
What are the most impressive features of Intego antivirus and why is the antivirus so highly regarded as one of the best in the antivirus industry will be listed here:
Reliability and security
The latest updates for Intego antivirus software are now available for the Windows operating system. It did a great job for years keeping Mac users safe. At the same time, the launch of a new line gives hope for similar security among Windows users. Besides, Intego antivirus is a universal solution that can protect both platforms from malware and other types of attacks. However, there are differences between these two editions. First of all, Intego for Windows doesn't have parental controls, device optimization tools, or firewalls.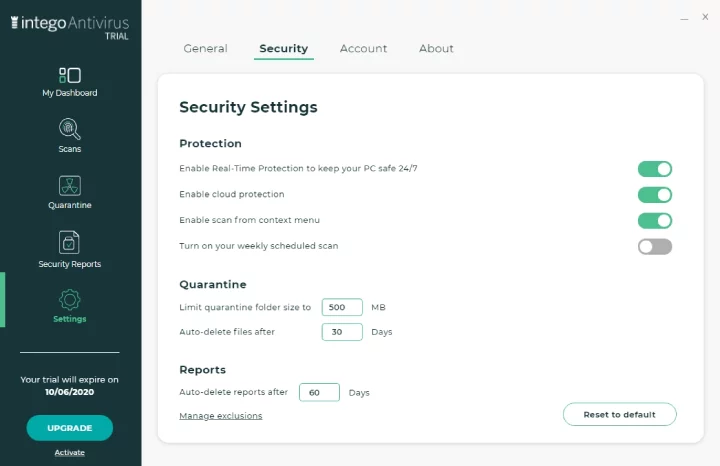 The basic anti-malware engine is the same in both products. While Intego antivirus has not yet been adequately tested, Intego for Mac has been repeatedly reviewed by leading independent testers.
Laboratory test results
Intego antivirus has a long list of awards and certifications from leading independent antivirus testing laboratories. It took part in the AV test from June 2021, in which macOS Mojave 10.14.3 and the associated virus protection against malware infections (worms, viruses, Trojans, etc.) were rated.
Out of 557 widespread and widespread malware samples added within 4 months, Intego got a perfect score of 6/6 and was able to detect 100% of the malware (industry average 99.9%). Also, it achieved a fair performance of 5.5 / 6 and left competitors like Avira behind.
According to reports from AV-Comparatives, all 585 samples were detected and blocked. However, an approved Mac security certification has not been obtained. This is mainly because AV-Comparatives encountered unexpected behavior when testing the antivirus on the macOS Mojave platform.
However, new test results for the updated version have not yet been published. The antivirus also proved its ease of use and received a 5.5 / 6 rating in the AV test in June 2021. In the same test, all other brands except F-Secure had a perfect 6/6.
A full scan takes around 20 to 25 minutes, which is great. Normal scans are extremely light in the system and do not use a lot of resources. However, the first scan can sometimes occupy more than 50% of the available virtual CPU cores.
Below is a list of Intego antivirus features.
Intego antivirus has a great user interface and is easy to use
Intego antivirus is an incredibly easy-to-use antivirus software with a seamless user interface that follows the style of Mac designers. Everything is always at hand as you can run a full scan, check system status, and download the latest updates without leaving the dashboard.
The main dashboard contains all the elements right in front of the user. One-click is enough to access the various menus such as scans, quarantine, security reports, settings, and all additional modules.
Scan options
Intego antivirus software allows users to choose from four different scanning options. First, there are quick scans. The last 2-3 minutes and review the most important (and vulnerable) areas of the system.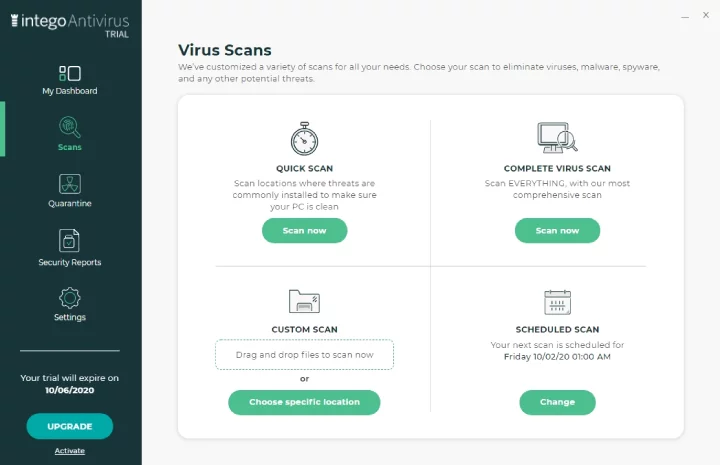 The full virus scan checks all parts of the drive (s) and takes up to 2 hours on average. That's quite a long time compared to most of the competition, but the good news is that back-to-back reviews take a lot less time.
Custom scans allow you to drag and drop files for instant analysis. You can right-click on any file/folder/application on your computer and run a custom scan. Planned analyses are self-explanatory. All of these scan types are available for both Intego Antivirus for Windows Protection and macOS.
Intego VirusBarrier offers malware scanning
Intego antivirus has several functions that define protection. One of them is the Mac malware scanning engine. It is very robust and flexible as the main Intego Antivirus dashboard is simple and easy to navigate, with a minimum of buttons. VirusBarrier can scan (quickly and extensively) and remove malicious files from the operating system. It also offers real-time protection, making it Intego's main antivirus engine.
As a virus scanner for Mac, Intego Antivirus is a good buy as it can prevent further attacks from advanced malware like XCSSET. VirusBarrier can detect and eliminate all types of threats, including viruses, Trojans, adware, and spyware. It is highly recommended that you do a full scan at least once a month.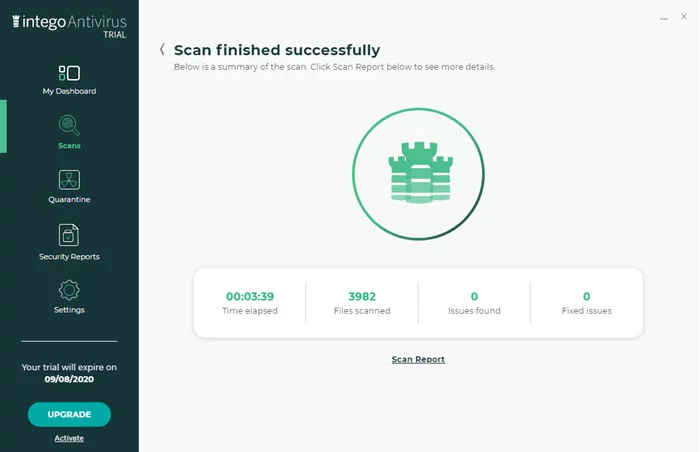 Intego ContentBarrier
The internet plays a huge role in our lives and it is incredibly difficult to keep children away from the damage the internet and our devices have put them so badly. One of the best ways to keep kids safe is to use parental controls Just what ContentBarrier looks like many other leading antivirus solutions out there, Intego includes several tools to help you implement parental controls.
They're incredibly effective at blocking access to certain software, including email apps and websites. It also lets you "see" your kids' keystrokes and see what they actually type in chat rooms. Without proper monitoring and control of the available content, you leave it to the criminals. Hackers can steal their accounts, credit card information, and even their identities.
Intego NetBarrier
It is an advanced firewall that generally protects devices from network attacks. Although macOS and Windows have built-in firewalls, they are not NetBarrier. First, NetBarrier is pretty universal in that it protects Intego users in the following places: at home, in the office, or even when connected to a vulnerable Wi-Fi network such as public restaurants, airports, hotels, etc.
The NetBarrier will block incoming/outgoing network and local connections for its users. To make things easier, this module contains three different pre-sets. The most impressive pre-set, however, is the "public hotspot," which ensures that no hackers can take control of your device, even if they find a way to access the network.
Intego Backup Assistant
The backup wizard specializes in creating and managing customizable backups. This allows backups of your most important files to be made and saved on any storage device that contains them. Hard drives, SSDs and flash drives, etc. Users can also choose what suits them best.
A backup schedule is also available. This option allows you to back up the most important files once a week, while regular working documents can be backed up once a month or similar. Use the Bootable Backup feature to create an exact copy of your macOS system. If the operating system becomes unusable / is infected by viruses, you can restore everything in a short time.
Intego Mac washing machine
The washing machine is Intego's optimization toolset for macOS and offers unique organizing, duplicating, and retrieving functions. These three different modules usually deal with different things.
Organize is one of those nifty tools that can help you clean up the operating system, reorganize apps, put files in folders, and make it more accessible just what the document ordered. It doesn't take long for the organization to master, and it greatly improves the mess with the messy desks of Intego users. This is a unique feature that many antivirus products don't really have.
While there is only one task for the duplicate: find duplicate files on the operating system and remove them. This frees up disk space and improves overall performance.
Reclaim is somewhat similar, but instead of removing duplicates, it focuses on unnecessary files as it does a scan that can take a while (up to ten minutes, depending on your hardware). It then creates a list of unnecessary downloads, logs, cache files, temporary files, and everything in between.
Phishing detection
Intego antivirus scans e-mail for viruses and has a permanent application for monitoring anti-spyware measures. The Premium Bundle comes with NetBarrier X9, which allows you to easily identify all incoming and outgoing requirements of your system. You can configure the network channels according to your requirements for optimal protection.
Besides, unwanted online content is filtered and blocked. However, it lacks a secure browser and VPN. Overall, phishing detection is not one of Intego antivirus's strengths.
Ransomware detection
The software can block ransomware instantly. As viruses and ransomware signatures are constantly updated and added to Intego antivirus, it will stop all kinds of popular dialers, keyloggers, scareware, and other hacking tools that are used to search your data.
Also, the Personal Backup feature is a great addition to protect your files and keep a copy. According to tests, it can only detect known ransomware (unlike competitors like Trend Micro and Bitdefender).
Firewall protection
Intego antivirus offers some of the thinnest and most sophisticated firewall protection in the industry. This smart feature called NetBarrier is perfect for protecting your home network and your hotspot.
Regardless of the network, a device is connected to, NetBarrier automatically switches to the correct firewall configuration, providing optimal security.
The two-way firewall provides anti-spyware measures and monitors all active applications over your network connection. You also get the flexibility to prevent applications from accessing specific domains.
Spyware detection
Intego antivirus gives you the option of choosing between three levels of protection, depending on your needs. The main anti-virus engine is based on the original Mac anti-malware scanning engine and protects your devices from spyware, keyloggers, dialers, and other similar programs designed to access your data. Automatic and scheduled scans quarantine even deeply hidden files.
Also, the personal firewall continuously checks all incoming and outgoing requests to ensure that an application is not exposed to hackers or other online threats.
Other Features of Intego antivirus includes:
Anti-Spyware, Antivirus, Malware & Ransomware Protection
Online Threat Protection
Malware Detection
Scheduled Scans
Password Manager
Speed Scan
Mac Antivirus History Logs
Email Notifications
Light Footprint Scans
Netball Firewall
Customer service and support
Antivirus developers always try to keep their products running smoothly. It is always important to offer your customers the best possible support. With Intego, assistance is available in several forms. There is also an availability of live chat.
Although it can take an agent a while to join the chat, it's impressive how friendly and helpful their team is to users and users on their official website, you can find a knowledge-based and FAQ section. They are well structured and it won't be difficult to find information on the subjects that interest you.
Prices and packages available
macOS users can choose one of the four available packages:
Mac Internet Security X9: This is Intego's entry-level antivirus. It offers real-time protection against malware (the VirusScanner module) and includes a decent firewall (the NetBarrier). If all you need is basic Mac security software, Intego Internet Security for Mac is worth buying. However, if you're looking for something more comprehensive, you may want to upgrade to the more expensive packages.
Mac ContentBarrier Secure X9: This is considered the most popular plan among Intego users. As the name suggests, it adds the ContentBarrier module, which is a set of parental control tools. If you have children at home who you want to protect, this is a decent investment.
Mac Washing Machine Secure X9: This price plan adds a powerful system optimization program to the mix. This may not be the most critical trait of antivirus software for improving overall performance and eliminating system junk, but it does.
Mac Premium Bundle X9: This is the most expensive macOS package for Intego Antivirus. It is considered premium because it includes everything that another lower price plan has to offer, and with this package, users benefit from an interesting offer. This pricing plan is recommended when the user really needs all the additional tools and not just a classic anti-malware solution.
However, right now there is a limited time sale, you can get your mac security with a huge 50% discount:
Installation and configuration
Regardless of a user's purchase plan, full software, or choosing a free trial, the installation process on your Mac is the same. It's quick and efficient.
To install it, first, download the software and run the installer from the original package.

Then double click to run the main installer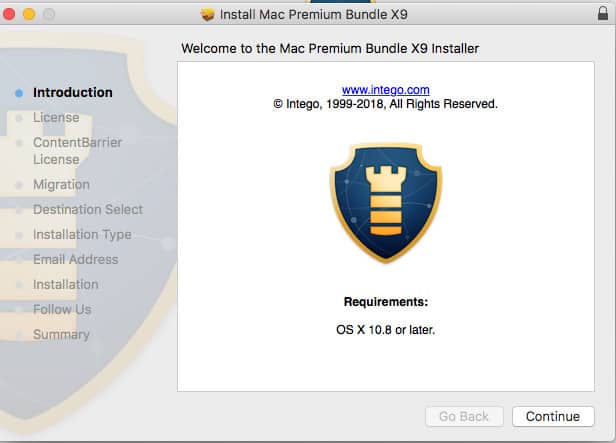 Click on the various prompts, enter your email address when prompted, and complete the installation by restarting the operating system.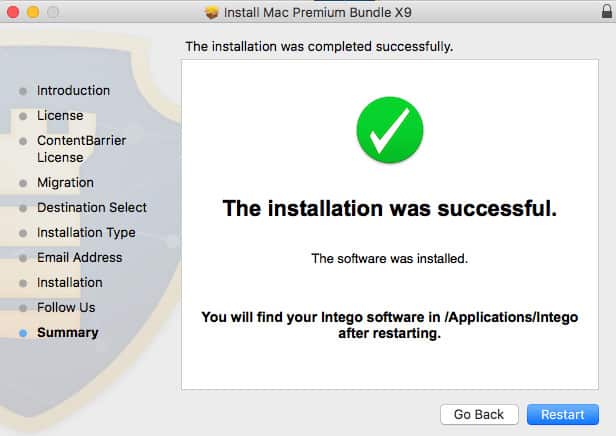 You can then find the Intego software under / Applications / Intego. The company divides its various tools into different programs instead of hosting them all under one roof.

When you purchase the Premium Pack, you get NetBarrier X9, Mac Washing Machine X9, ContentBarrier X9, and Personal Backup 10.9. You must either enter the Product Key that you received with your purchase or click the Free Trial button to use Intego Antivirus.
Intego prompts you to choose the level of anti-virus coverage: Minimum, Standard, or Maximum.
You must choose your level of coverage as it will affect the impact the application will have on your system processes. However, a higher degree of coverage means better AV protection and can be changed at any time later, so it is recommended that you choose Standard or Minimum for the first test.
Intego antivirus Pros
Intego antivirus is certified for Mac protection.
It also includes a long list of useful extras such as ransomware protection, password manager, etc.
Intego antivirus is quick and it thoroughly scans with a low impact.
Intego antivirus is user-friendly with an intuitive interface.
It is recorded to have a decent performance in anti-malware tests.
Intego antivirus Cons
Intego antivirus doesn't detect Windows malware well-enough.
It is important to know that Intego antivirus is not available for Android.
Intego antivirus iOS functionality is somewhat limited.
Intego for Windows edition is nothing more than a scanner.
Antivirus software isn't the most affordable antivirus solution.
There is no VPN is available on any Intego antivirus plan.
Final verdict
If you are looking for antivirus software that is highly recommended for macOS-based devices, Intego antivirus is a great choice. This antivirus company has been around for quite a while and is known for providing very good protection for Mac and PC users. This includes strong antivirus programs as well as useful additional functions such as filtering and cleaning the parental controls. . Tool.
The antivirus has a long list of certifications and awards from leading independent testing laboratories. Considering the price and the features available, Intego is great value for money.
Bonus video: "Mac Malware explained: Do Macs need antivirus software?"
Intego Antivirus FAQs
---
Is Intego Antivirus Software Good?
The Intego antivirus software is good and has done well in our reviews, especially if you are buying antivirus software for Mac. Intego offers a full suite of MacOS protection and system optimization features. It also contains full and detailed explanations of the technologies used and explains their advantages.
If ransomware, malware, spyware, or other malicious threats are detected that cannot be removed automatically, Intego users can follow the company's manual clean-up guides or contact their team. technical support.
Does Intego offer a free trial?
Yes, Intego Antivirus offers a free 30-day trial. You don't need to enter any payment card details to access this free trial. However, some functions like washing machines are limited although you may be able to search your device for junk files. However, you need to purchase the full version to remove it.
How do I uninstall Intego antivirus software?
Intego provides an application to uninstall the software that is included with the software and is available for download. Users must first disable VirusBarrier through the software menu before they can uninstall Intego.
Download Intego Antivirus Review How Good Is Intego For Mac mp3 file
Thank you for reading!
---