Post Menu and Details.

Words: 5034

Reading time: ~20 minutes
With the advancement of internet space, malware has increased in the form of Trojans, malware, and viruses. There are many antivirus software solutions on the market to counter malicious code, and some of these software solutions are very effective and some are not. However, there is one antivirus software that stands out from the rest in the market, under the name Bitdefender Antivirus. This software offers reliable protection specifically designed for home users, providing both online and general PC protection for users.
Bitdefender Antivirus is an easy-to-use, fair-priced software program that offers near-perfect malware protection, exceptional customer service, and even devices with system performance.
The best description of Bitdefender Antivirus.
Bitdefender Antivirus is one of the best antivirus programs out there, and it rivals big names like Norton and Kaspersky. It's simple, straightforward to use, and contains everything you need to keep your device safe from malware and clean it up if it's already infected. Software scans are quick and thorough without affecting device performance.
Bitdefender Antivirus is a line of products from a Romanian cybersecurity company with many years of experience in the field and a reputation for powerful and effective antivirus software. This line of products includes Antivirus Free Edition, Antivirus Plus, Internet Security, and Total Security. Each of these product lines offers high-quality anti-malware protection and advanced features that vary depending on the plan you choose.
All products can be fully tested before making a final commitment with a 30-day free trial. You don't even have to leave your credit card information, and if you want to try it out yourself, you can get 30 free trial tests for a premium plan without paying anything first.
All Bitdefender antivirus products use the same basic technology (highly efficient and protective). This means that regardless of your plan, you'll get the same basic protection.
Bitdefender also has a bank of all the new viruses and malware it finds. It saves and analyses it. When it detects it in your device, it can act immediately to delete it.
In this interesting article on Bitdefender Antivirus, we take a look at all the packages and prices available and answer some key questions users want to know, as well as the pros and cons of Bitdefender Antivirus.
Is Bitdefender antivirus an effective and Safe Antivirus?
Yes, it receives consistently good grades and wins prestigious awards in various third-party laboratory tests. Most respected testers, including AV-Test and AV-Comparatives, always include it in their in-depth testing. Bitdefender Antivirus is not as secure as Kaspersky or Norton, but it is more reliable than most competing products.
Bitdefender Antivirus has a simple user interface, economical plans, exceptional customer service, and amazing performance. Depending on the price, it offers a range of internet security protections, some of which can duplicate the functions of the system. existing operation of your PC.
These safeguards include protection against phishing and fraud. Spam filter for incoming emails; Rescue mode to restart a badly infected computer for cleaning and recovery; and an anti-tracker feature that blocks web trackers to keep data browsing private and web pages to load faster.
Other functions include microphone monitor, webcam protection, file encryption, vulnerability assessment, and much more. In its more expensive packages, Bitdefender also includes the company's anti-theft device, which complements the standard features for Android and iOS. For example, if a thief changes the SIM card of a stolen phone, Bitdefender will send you an SMS with the phone number of the new SIM card to a separate trusted phone number.
AN unlimited VPN service is only available with Bitdefender's premium security package. Unlike other antivirus companies that offer a free trial of the full version of their software, Bitdefender's 30-day trial only includes real-time threat detection, virus scanning, and software removal. maliciously, with no advanced features. Bitdefender Antivirus is worth every penny as it runs on a powerful algorithm and protects sensitive data from all threats.
Is Bitdefender Antivirus Free?
Yes, it is available as a free product, but the free edition is severely limited. It only provides basic malware protection and does not include any additional features. Compared to free Avast, it isn't as feature-rich or effective against modern-day threats.
How do I turn off Bitdefender's antivirus software?
For security reasons, Bitdefender does not include a "Disable all" button. Malware often tries to turn off antivirus protection, and the "Turn off all" option helps. However, users can manually enable and disable various Bitdefender antivirus features.
Will Bitdefender slow down my computer?
A common problem with antivirus users is the performance of the antivirus program on the computer. Customers said Bitdefender has little impact on their computer system, which is positive. On the average computer, Bitdefender only slowed the device down by 8-10%, which is not bad.
Lab Test Results
We're more than happy with the tests we've run with Bitdefender antivirus as it achieved a score of 100% in the comprehensive and widely used AV-Test malware test with around 2,500 examples. AV-Comparatives tested Bitdefender in its real security test and reported that Bitdefender blocked 99.9% of attacks in 752 test cases. While it had a perfect score of 6 and an ADVANCED + rating from AV-Test, Avast Free Antivirus lagged slightly with a score of 5.5 / 6, even though this competitor offered exceptional support and nearly equivalent performance.
To validate performance through research, Bitdefender Antivirus was tested on a Windows 10 PC device (8 GB RAM, 64 bit). It didn't take long to install and was able to do a full scan of the device for the first time in less than 20 minutes, which is really great when compared to other antivirus software options. Also, none of the scans experienced any delay or system slowdown except for the first full scan.
It was rated 8.3 in AV-Comparatives' Performance Impact Test, with lower scores indicating better performance. In the same test, McAfee Total Protection came out on top with 7.5, while Trend Micro Maximum Security was rated 13.7. Overall, Bitdefender offers a powerful security suite that uses less system memory.
Bitdefender is popular among the following:
International users
Business owners of all types
Massive corporations
Users looking for a great antivirus at a fair price
Owners of personal computers with Windows OS
Here are some highlights of Bitdefender Antivirus:
Outstanding features
Intuitive and simple
Impressive third-party test results
Thirty-day free trial for most packages
What are the impressive features of Bitdefender antivirus and why is the antivirus so highly regarded as one of the best in the antivirus industry will be listed?
Below is a list of Bitdefender antivirus features:
Bitdefender antivirus is Easy to use with a seamless installation set-up method
Before you can download Bitdefender, you need to create a central Bitdefender account. The installation process is quick and smooth and took about 5 minutes in total. Note, however, that there is no "compatibility mode" with Bitdefender Antivirus.
If you have any other security software on your device, you will need to remove it before the Bitdefender installation process can begin. Once the software has started the antivirus, Bitdefender gives the user a brief overview of the software.
User-interface
Bitdefender antivirus user interface is very simple, but it has plenty of options and settings if you want to customize them. Even so, the software is both user-friendly and informative. The top half of the dashboard is managed by "Autopilot Recommendations" or your "Personal Safety Advisor". The autopilot recommends steps you can take to keep your aircraft running more smoothly.
The dashboard is also linked to Quick Scan, Safeway-Browser, and VPN. However, you can customize the center console by replacing the standard options with features you are more likely to use. You can do the same thing by selecting the Add Quick Action option at the bottom right of the software.
Some of the features that can be added as "Quick Actions" include:
System Scan: It keeps track of anything malicious lurking on your computer, and cleans it up.
Vulnerability Scan: You can check where your system's weaknesses lie.
Wallets: It will protect your online transactions.
File Shredder: It is not so useful, as most of us just put files in the Recycle Bin.
Start-up Optimized: This will help you save maybe 5 seconds each time you start your PC.
Disc Cleanup: This is a feature that already exists in Windows, so not so useful if you're a Windows user.
Note: As soon as you add a new function to your dashboard using the "Add quick action" button, the button will be hidden. This is because only five "Quick Actions" can appear on your Home Screen at a time. However, these can still be changed using the pencil symbol.
The Protection tab on the left takes you to features like full scan, firewall, anti-spam and secure files. On the other hand, you can find the password manager, parental add-ons, and anti-tracker under the Privacy tab. If you want your device to run faster, go to the Utility tab and use the options available. If you want access to advanced settings, you can find them on the Settings tab at the bottom of the software.
Scanning options
Automatic scans are great. They prevent Bitdefender users from manually scanning your files with their existing Windows program. Also, at the heart of Bitdefender Antivirus is its powerful file scanning engine. Once the antivirus is installed, Bitdefender Antivirus continuously scans your computer for suspicious files, which the company compares against a list of security threats updated daily. These powerful scans are available for all Bitdefender products, including the free version.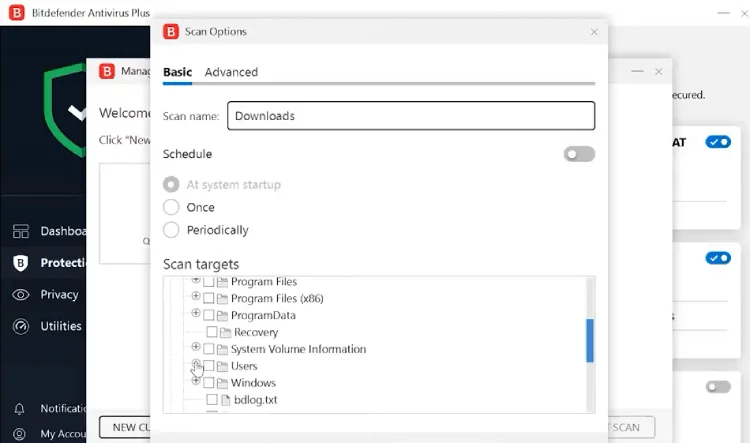 Another cool feature from the company is Behavioural Analysis, which checks your PC's files to make sure they're not in the shade. If it does, Bitdefender Antivirus will block them asap and even kill undetected ransomware.
If you keep connecting external hard drives, USB drives, and other devices to your computer, you will also like Bitdefender's hardware scans. These scans check and protect any new devices you sign in to.
If you don't have time to do a full scan, Bitdefender offers a "quick scan". This great little utility runs a super-fast version of a scan that looks for files, internet connections, and other typical things that can cause problems.
Features
There is also a vulnerability scanner that will scan your device for different types of vulnerabilities, whether they are operating system vulnerabilities or network connection vulnerabilities. The latter two are found by Bitdefender's Wi-Fi Security Advisor, a feature that allows you to get a security judgment for all of your wireless networks.
You can also schedule scans. This is handy when you spend most of your waking hours on your computer. Use the Manage Scans tool to make sure the antivirus is running at night or when you are out and about. You can also use this tool to create new types of scans. This makes it easier to check specific folders and files. The cool thing about Bitdefender Antivirus is that you can run multiple scans at once. Even with a full system scan, you can run an on-demand scan for suspicious data, such as the recently downloaded download.
Bitdefender Antivirus Behaviour Monitor and Ransomware Protection functions
Behaviour Monitor prevents ransomware from encrypting your files. It works at the same time as the ransomware protection feature, which will back up all of your target files when Bitdefender Antivirus detects anything it thinks is ransomware.
Phishing detection feature
Bitdefender's phishing detection method is also worth mentioning. The software uses a "web shield," a feature that protects against phishing, malware, and other dangerous websites. What's even more impressive is that Web Shield protects all network activity. For example, it detects unsafe links in a document.
Bitdefender Antivirus SafePay feature
Bitdefender Antivirus also understands that shopping online is a dangerous activity if you are not careful. All the more so, they added a great tool to help you stay safe while shopping online. SafePay Browser allows you to visit your favorite banking and shopping websites with measures that protect you from hackers and keyloggers.
SafePay also prevents unwanted browser extensions from working. This potential malware can get installed on your computer without your knowledge and affect the performance of your device. More importantly, this feature will not allow you to access unsecured websites (those that don't start with HTTPS) and will warn you if you try to visit an unsecured website.
Password manager
This feature of Bitdefender Antivirus allows you to keep all of your login information in one place. It also protects your credit card details and other personal information. You can configure multiple password databases and synchronize them across all Bitdefender protected devices.
While this feature doesn't replace a dedicated password manager like LastPass or Dashlane, it is very handy if you don't currently have a password manager.
Anti-tracking feature
Every time you surf online, websites collect information about your behavior (for example, when you are asked to "accept cookies"). Some do this to show you more relevant advertisements while others share your activities with other companies. Regardless, most of the time, you have no idea that a site is spying on you.
Bitdefender anti-tracking extension usually detects and often blocks intrusive web trackers while you are active online. This has the advantage that the overall loading time of your website is drastically reduced.
Secure files
There are times when you want most of your important files to be hidden from the software. In such cases, it is good to keep them in a safe place. This is all thanks to Bitdefender's secure files that work in times like these.
Every time you put a file in this folder, it cannot be modified or read by the software without your permission. If you want to ensure that your files are completely deleted from your computer, you can use the paper shredder to delete them, which will permanently remove all traces of files from your computer.
Bitdefender VPN
Bitdefender's free VPN (Virtual Private Network) is included in all plans, including the free version. It is operated by Hotspot Shield, a leading VPN provider, and helps keep all browsing data anonymous and encrypted. However, unlike Bitdefender's premium VPN, the Free Edition only offers 200MB of daily data traffic per device (which is barely enough for some YouTube clips).
Bitdefender Antivirus Free VPN also does not allow you to change your location, so it does not unblock geo-restricted streaming content. Bitdefender's free VPN is only for basic web surfing.
Spam filter
This add-on does exactly what its name suggests, i.e. It filters spam and keeps potentially malicious emails and attachments away from the user. This is not a particularly advanced feature and only provides basic protection. It is reported that this feature was very impressive due to its efficiency: the spam filter blocked more than 90% of the samples planted.
The percentage of false positives was reported with only 1 percent of legitimate emails, which is a reliable result. The good news is that you don't have to do anything for this filter to work. It is automatically activated in Bitdefender and is active around the clock. You can create blacklists and whitelists, mark certain types of emails, and "refine" the module according to your wishes. The recognition rate isn't very impressive in terms of features, but it's well above average.
Bitdefender Antivirus parental controls
These tools only have one job: to protect your children from accessing explicit content on the Internet. Bitdefender Parental Controls have some adequate features that allow you to monitor (and control) what your child can see online. Restricting the use of apps is one of the most useful features. Also, you can block websites for content, switch off various devices (e.g. a smartphone) and limit the daily use of the devices.
All of this is done with just a few clicks. You don't have to be an expert to enable parental controls. With the mobile app for Android, parents can monitor who children are communicating with via text messages and calls. Call barring is also an option. However, the app leaves a lot to be desired: Most of the time it doesn't work properly and sets the wrong blocks and restrictions.
Bitdefender Antivirus webcam protection and microphone filter
Most users' favorite feature is the webcam filter. Webcam hijacking has been one of the major threats in recent years. By accessing the webcam on your laptop, tablet, or phone, criminals can look at you from the other side without you even knowing. Bitdefender's webcam protection module determines which operating system applications can access the webcam. The user can block certain programs and browsers and even turn off the camera permanently.
This also includes the permissions granted to any software on your computer that wants to use your webcam. You can choose which software you want to access and block the software you don't want.
How it works
If an application that does not have permission to access the webcam tries, Bitdefender will notify you immediately. The microphone filter works the same but focuses on the microphone rather than the camera. Unfortunately, the level of control is much lower: you only receive warnings and cannot set any rules. However, since most competitors don't have a microphone filter, this feature deserves our praise.
Other Security and Privacy Features from Bitdefender antivirus
There is also a huge range of additional features, including:
Anti-theft tools: Users can use it to locate, lock, and wipe a lost or stolen device and it is compatible with Windows, Mac, and Android devices. Also offers Wear OS smartwatch compatibility to help locate lost devices.
Game, Movie, and Work modes: The user can adjust CPU usage by limiting scans if you're gaming, watching movies, or working, so your device's performance isn't impacted.
Integrated firewall: It has a wide range of options, whitelists certain IP addresses and ports, monitor apps passing through the firewall, and block if necessary.
Customer service and support
The company offers free access to 24/7 support. Customer support is usually received via phone calls, emails, and most importantly, an online chat form. It takes no more than 24 hours for technical staff to send a response. In our test, it took them an average of 15 hours to reply to us, which is pretty impressive.
If you want to reduce standby time to an hour or two, upgrade to Premium Security. This is the most expensive plan and, as mentioned earlier, gives priority support. Bitdefender's official website has a comprehensive FAQ section, comprehensive guides on installing and using the product, and a forum. There are even videos in which all important functions/procedures are explained in a user-friendly manner.
You can test Bitdefender's virus protection and all additional security functions 100% risk-free with the 30-day free trial version.
Bitdefender antivirus plans and pricing
Bitdefender Antivirus offers a variety of antivirus plans, including a completely free version of its product. Also it has many professional products that are suitable for both small and medium-sized businesses and large businesses.
The free version of Bitdefender
The free version of Bitdefender Antivirus gives you basic protection against malware and automatic updates. This makes it one of the best free antivirus products out there. For example, Kaspersky Free also includes Secure Connection (the company's VPN), password management, security alerts, and account verification.
It is important to say that Bitdefender Free is only available for Windows operating systems. Mac users can only expect an antivirus that will scan handpicked files/folders as well as the entire operating system. The Android app is a bit more advanced and offers cloud scans in addition to malware protection. However, it is not as efficient compared to the Win Edition.
On the plus side, Bitdefender antivirus offers free trials for every paid plan (i.e. antivirus Plus, Internet Security, Total Security, and Premium Security). It's more than enough to test the products on your device and see if you want to upgrade or not. Overall, the free Bitdefender is a good place to start an upgrade, but it lags behind Kaspersky, Avast, and other flagships.
Bitdefender Antivirus Plus
It's Bitdefender's paid entry-level package, with which the company offers a relatively limited list of essential features. The main disadvantage of this package is that, like the free edition, it is only available for the Windows operating system. It's relatively affordable, but it's a little less feature-rich when compared to similarly priced products.
This is what Bitdefender Antivirus Plus is for:
Real-time protection: It prevents all types of malware from infecting your device. The antivirus engine runs 24/7 and provides adequate protection against ransomware.
SOB (Safe Online Banking): This is a secure environment that prevents cybercriminals from stealing your login information. We're talking about banking information (like the login password for your bank account) that hackers steal and gain access to your money / sensitive information. SOB works effectively against keyloggers and enables secure online banking.
Password Manager: This is a secure store for all of your passwords and logins. Besides linking and syncing all of your credentials, it also helps to find hard-to-crack passwords.
VPN (Virtual Private Network): A virtual private network to hide your online activities and with Antivirus Plus, VPN use is limited to 200MB per day. Yes, this is not enough to torrent or watch shows on streaming platforms (like Netflix). However, the limit of 200 MB is more than sufficient for online transactions. We strongly recommend enabling a VPN if you are using a public network as it is beneficial for Wi-Fi security.
Bitdefender Internet Security
The second plan is more feature-rich and, according to official statistics, is one of the most popular Bitdefender antivirus packages. Although it's a paid package, Internet Security isn't available on Mac, iOS, or Android (just like Antivirus Plus). The only supported platform is Microsoft Windows, which leaves Bitdefender well behind competitors like Kaspersky, Norton, Avast, and others.
The full list of additional features can be found here:
Parental controls: These tools allow you to control and limit the content available on your children's devices. Bitdefender parental controls are a good choice for keeping an eye on online activity, limiting device usage, and blocking certain websites and programs (apps).
Firewall feature: This is a filtering of the network traffic. The firewall monitors which applications have access to the network and look for vulnerabilities in the operating system (or network) that could be exploited by cybercriminals.
Webcam and microphone protection: There isn't a modern-day user who wants third parties to view them on the webcam or listen to private conversations. This is why this micro webcam protection module is so important. Here you can choose which apps have access to the webcam and microphone and can even turn these devices off completely.
File encryption: This provides an extra layer of security for your most important files and folders.
File Shredder: This is ideal for getting rid of junk files for good.
Bitdefender total security
Bitdefender Total Security is a product that can cover any device you own. Compared to Antivirus Plus and Internet Security, Total Security has one big advantage: it is fully compatible not only with Win but also with Mac, Android, and iOS. It includes all the features of the previous packages and adds four extras.
Total Security users have access to the following modules:
BTD (Behavioural Threat Detection): Enables real-time monitoring of all active programs on the operating system. Whenever something unusual/suspicious happens, BTD takes immediate action.
Theft protection: It allows you to remotely lock a stolen/lost device. It also helps track and locate the device before thieves manage to steal anything important.
One-Click Optimizer: This Bitdefender debugging tool helps the user improve overall system performance and remove junk files.
Photon feature: This is an advanced optimization tool that will further improve performance and free up RAM and CPU power.
Bitdefender Premium Security
The most expensive package in the Bitdefender range has ten simultaneous connections and includes all the features available with the previous packages. However, if you don't have that many devices and all of them need unique extra features, Premium Security may not be the best choice for you. Either way, it's good business and with it you get:
Priority support and self-explanatory: every time you contact customer service, your request takes precedence over regular users. This not only applies to telephone support but also the ticket system. By the way, packet-based user prioritization is not just reserved for Bitdefender.
Unlimited VPN Usage: Premium Security has no daily limit on VPN traffic usage. This means that you can download as many torrents as you want for free and stream movies and TV series to your favorite device.
Bitdefender for Mac
For Mac users, Bitdefender offers three packages to choose from (instead of four on Windows). The entry-level plan usually goes for the same price as the Bitdefender Antivirus Plus for Windows and it's only available for macOS.
This gives you complete protection against Mac-specific malware, adware, and spyware. When you add online banking protection, safe file protection, and low system impact, you get a decent product. Internet Security is not available for Macs. Stands for Total Security and Premium Security, although the prices are the same, they aren't as feature-rich for Mac as they are for Windows.
The following list is features available for the macOS:
Malware protection
Phishing protection
Network security
Safe Files: Bitdefender's ransomware protection module
Traffic Light: Which is a browser extension that filters out potentially dangerous content. Implements AI that scans all links before the user follows them.
Ad-blocking
Self-explanatory: It usually keeps ad pop-ups at bay and this module also battles hijackers and toolbars, thus optimizing browser performance.
Parental controls
VPN (It has a data cap depending on the package).
Anti-tracker
Time Machine Protection: It always prevents various malicious files from encrypting sensitive data.
Advanced file encryption
Password manager
Bitdefender Internet Shield: This feature from Bitdefender antivirus takes care of all the security processes without the user's involvement. Automatic detection and elimination of potential threats.
Autopilot: This is a smart security advisor which has a module that consults the user on security measures, helping them to stay safe while surfing the web.
Bitdefender for Mobile Protection (for Android and iOS)
Android phone/tablet users will be happy to hear that Bitdefender Mobile Security for Android is only $15 a year. You will need a device that is compatible with Android 4.1 or higher to run it.
Here is what it has to offer:
Remote Location/Lock/Erase Android Devices: This is very useful when a gadget is lost or stolen. By locking you to protect confidential data on the operating system and prevent thieves from stealing your passwords/logins.
Secure VPN: It comes with the same limit of 200MB/ day. It's possible to upgrade to a premium VPN which costs $ 39.99 per year.
Account privacy: checks your email address (account) for violations and sends notifications when suspicious activity is detected.
Low battery impact: this usually optimizes battery performance.
Internet protection.
Autopilot.
The iOS edition costs the same price ($15 per year) but is a little different.
The list of available functions includes:
Web protection
Secure VPN (only 200 megabytes per day)
Account breach check
Full iPad support
To run it, you'll need iOS 11.2or higher.
Bitdefender antivirus for Business
Bitdefender Antivirus is not only available for home users but also for small and medium-sized businesses. The business solution is called GravityZone and it can be hosted by Bitdefender Antivirus and installed locally. Whichever package you choose, layered protection, anti-ransomware, and machine learning will be part of the business.
Anti-exploit modules, device control functions, and a powerful firewall are other outstanding features of GravityZone. There is a total of six plans to choose from and these include:
Enterprise Security: The entry-level package is perfect for small businesses looking for a simple yet affordable solution for their business.
Advanced Business Security: Medium-sized entrepreneurs should choose Advanced Business Security instead of the standard package. It offers more security features and is more reliable overall.
Elite Security: If you're exposed to high-level threats and want to keep your business safe, Elite's aggressive (and highly effective) approach can win your trust.
Ultra-Security: This is built-in endpoint protection and EDR platform for the modern enterprise. Just like Elite, this package aims to detect and eliminate sophisticated threats.
Corporate Security: Large companies should prefer corporate security to other plans. It's a flexible product, meaning you can add new features at any time.
Cloud security for MSPs: Remote protection of multiple devices (clients) from a single console, which MSP specializes in.
Bitdefender antivirus Installation and Setup
The installation process is straightforward and user-friendly. Here is what you need to do:
Choose a package that you like from the official website.
Then choose a payment method (credit card, PayPal, or 7-Eleven / ACE).
Once payment is complete, you can download the installation file.
We recommend that you download the free trial and only pay for a plan after you complete the trial.
It doesn't take long to install. We tested it on different devices and operating systems. Bitdefender installation takes less than 10 minutes on average.
The company asks its customers to create an account, but it only takes a minute.
To activate the product, all you have to do is enter the code you received in your email and you're done.
Once the software is installed, you will be greeted by the main dashboard.
The antivirus works automatically, so you don't have to manually configure anything to be effective against malware.
Bitdefender antivirus Pros
Overflowing with features
Beginner-friendly
Efficient URL filtering and malware protection, excellent virus protection.
Capable ransomware defenses
Fast and low-impact scans on the system
Powerful advanced features like Ransomware Remediation and SafePay browser.
Amazing parental controls on Total Security and Family plans.
Great mobile app.
Online 24/7 support
Generous free trials.
Offers a reliable VPN
Protects home users and businesses.
Bitdefender antivirus Cons
The entry-level packages only protect the Win OS
More expensive than the closest rivals
Not as impressive in third-party lab tests as the leaders
The free plan is pretty basic.
Only Total Security and Family plans will work on macOS.
Free VPN is limited to 200 MB and one location, and the Premium VPN is pretty expensive.
SafePay browser only works for online shopping and banking, not general browsing.
Bitdefender antivirus FAQs
---
Is the Bitdefender mobile app slowing down my device?
No, the Bitdefender mobile app does not slow down your device. It's easy and only works when needed. The app doesn't run in the background when you're using your device.
Is Bitdefender Antivirus compatible with my system?
To use Bitdefender Antivirus in 2021, Windows users must have Windows 7 with Service Pack 1 or higher installed on their PC. Mac users must have OS X 10.10 (Yosemite) installed or a higher version,
IOS users need iOS 11.2 or higher for the mobile app. Android users require Android 4.1 (Jelly Bean) or higher. Note that your device must be connected to the internet for the mobile app to work on iOS and Android devices.
Thank you for reading!
If you liked this post, check out these too:
---