Post Menu and Details.

Words: 2264

Reading time: ~9 minutes
Looking for Best Free iPhone Antivirus App in 2021? Let's discuss the ultimate features of the free Android Antivirus as well as the product offering  We live in a dynamic moment in terms of technology. Even criminals have gotten more tech-savvy and are using innovative methods to steal your sensitive data, personal identity, or credit card details, or simply infect your device with malware that renders it unusable.
iPhone users may be less exposed to these threats than PC users, but they are not completely immune to these threats. Given the number of sensitive operations now running on our iPhones, taking the necessary precautions in the form of a good antivirus is a wise strategy.
Here are some interesting facts most antivirus companies don't usually share about iPhone devices:
iPhone doesn't allow Virus Scanning on their IOS devices.
It is no more a fact that Apple banned developers from publishing apps that claim to scan iPhone devices of their users for malware. iPhone IOS is referred to as sandboxed, meaning data from other apps cannot be accessed by iPhone IOS.
Whenever people say Antivirus for iOS, they usually refer to "Cybersecurity protection" which describes apps that are protecting iPhones and iPads against a wide range of dangerous threats which includes:
Phishing: Malicious mobile websites can trick internet users into giving their personal information to criminal acts without your awareness.
Unsafe networks: All the data on your iPhone can be hacked if you connect to any unsecured web links or public Wi-Fi networks. Connecting to an open/public Wi-Fi makes devices vulnerable to spyware.
Loss and theft: Phone theft is an increasing problem recently with Apple devices being the most targeted, this makes the iPhone the most commonly stolen phone in the world.
Antivirus apps
In conclusion, iPhone and iOS Antivirus apps don't really detect viruses, but iOS and iPhone viruses will still try to hack your passwords and steal your personal identity. This is why it's important to have an antivirus to protect against all of these other cybersecurity threats.
A test was conducted on all the free iOS antivirus apps in the App Store, though it wasn't easy the outcome has proven to us that there are hundreds of fake security apps out there which are only designed to steal internet users personal information such as login details, and credit card numbers, etc.
This article will discuss the top 5 apps that are the safest, the most secure, and offer free internet security features for iOS in 2021.
Note: It is important to keep in mind that none of these free apps will guarantee you 100% protection than the way a Paid iOS antivirus apps will. If you're looking for advanced antivirus protection for your iPhone, and iOS then you should understand that your data and your privacy are worth more than 2-3 dollars per month.
These Free iOS Antivirus Apps are selected based on the following features:
Here are the features you should expect from an iPhone antivirus app before it can earn a place as one of the best mobile apps:
I recommend the company with 100% free Antivirus apps — not only a free trial.
Guaranteed security:  few Antivirus company was tested each based on their iOS antivirus app to determine whether or not it could keep the iPhone device safe. Many of the antivirus apps tested caused security holes that left my devices more vulnerable than when I started using it. But these top 5 Antivirus listed below is the most secure of them all.
Usefulness: some great security features are available on iOS; this feature is already provided by Apple.
Efficiency: Many antivirus apps slow down the iOS device or act as bugs. The listed antivirus has been tested each and considered how much impact each one of their features had on an iPhone device's system.
Here is the top listed Antivirus app based on best features:
Avira Mobile Security
This is the best Antivirus app available for free and it is due to the availability of extra features the company offers its users.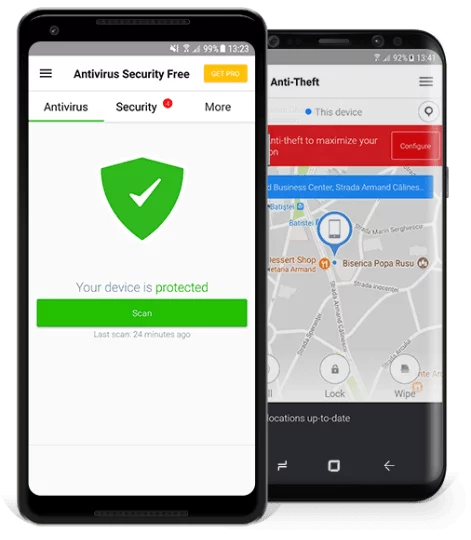 Avira Mobile Security edges their competitors by offering extra features for both iPhone or iPad, each one of those features is helpful, and adds a necessary layer of protection to all iOS devices.
Internet users that usually do shopping and banking all the time from their phone, shouldn't be worried about been tricked into entering my credit card info on a fake phishing website designed to steal my info. As a user of Avira, opening several known phishing websites with Safari, and Avira Mobile Security's Web Protection feature prevented me from visiting all of these fake sites.
Avira's free iPhone app allows its subscribers easy access to an online dashboard which is Avira Connect. This feature allows users to find their phone if it gets lost or stolen, you can log into Avira Connect from another device to use Avira's anti-theft tools.
This feature I have tested through my PC to find my iPhone.
Avira Mobile Security also offers some great features like:
Device Analyzer — this feature helps to free up space to improve its performance.
Contacts Backup — Email a copy of your contacts so you can still access them even if you lose your phone.
Identity Safeguard — this helps to check if your email address (or the email address of any of your contacts) has been stolen in a data breach.
Call Blocker — lets you blacklist unwanted callers anytime which prevents them from contacting you.
It's also worth checking out a couple of Avira's other free iPhone cybersecurity apps which includes:
Avira Phantom virtual private security (VPN)— this keeps your data safe on public Wi-Fi networks, with up to 500 MB worth of data for free per month.
Avira password manager— this great feature keeps your account details organized and secured. While Avira premium antivirus is one of the best antiviruses in the market which includes additional features like professional protection for iOS (and 4 other devices on the same plan).
the most sophisticated antivirus app on iPhone is Avira Mobile Security and this is because of its range of features. The anti-phishing technology on the Avira app is very impressive.
McAfee Mobile Security
This is regarded as one of the best apps available because of its theft Protection.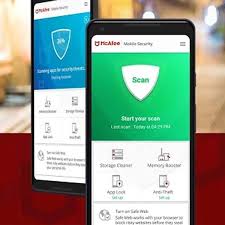 McAfee is a popular name in the internet security industry, and the mobile app has the same featured similar to their premium desktop antivirus, McAfee's free iOS app is a very high-quality mobile app compared to its competitors.
Two separate phone location features to help you find your lost or stolen iOS device are included in McAfee Mobile Security.
the Remote Alarm features were tested with an iPhone on "silent" mode, and it made an incredibly loud noise.
The find my location feature will show you the current location of your iPhone on a map. These two things are nice to have even though they are already installed features on Apple's default Find My iOS app.
McAfee's CaptureCam feature will take a photo of anyone trying to intrude on your privacy by using the iPad's front camera. This image via the McAfee app is then sent to an email of the picture along with the last known location of the device.
The Media Vault feature provides extra protection to photos and videos on your device. Media Vault encrypts your device's media and secures it with a PIN password.
McAfee Mobile Security offers a Backup, Wipe, and Restore process to make sure that your contact list remains private:
Back up my contacts using McAfee's cloud storage.
Wipe my contacts via my McAfee account if someone steals my iPhone.
Restore my contacts by installing the McAfee app on a new device.
Phone Guardian
This company Antivirus security offers the best service for Network Protection.
Every day we transmit personal, financial, and most important sensitive information through our iPhone. Phone Guardian focuses on protecting the outbound network traffic through the data leaving from my device.
 Phone Guardian uses a Virtual Private Network (VPN) to ensure the iPhone is always connected to a secure network. The VPN also encrypts the data leaving the phone and reroutes my network traffic through a different, secure server.
Another great feature is how the app analyzes personal information. Phone Guardian tells if an app is collecting your personal information and usage data for advertising purposes.
The bad news is Phone Guardian also use such data to make money by doing something related by Collecting data about app usage from its users and selling it to different companies for their market research purposes. Privacy-conscious users should be aware of this, even though the data that Phone Guardian collects is anonymized, so it won't be sold to advertisers.
Phone Guardian offers fast and free Virtual private networks also known as VPN to keep your internet network traffic private. Phone Guardian also helps you understand how data-hungry apps use your personal information.
Lookout Personal for IOS
This company's cybersecurity offers the best to find my iPhone features to its users. Lookout Personal for iOS offers a better interface than the in-builds of Apple's default Find My Phone app.
It is used for phone-locating features that I tested the Locate feature by putting it in my friend's car and having him drive really fast. I followed the phone's exact location as I talked with him on the phone, and the map was 100% accurate. Then I tested the Scream feature (which I told him I would do), and it was so loud that it startled him!
Lookout Lost Message feature will send out a short message on the lock screen with contact details of the users with the details of how you are looking for your phone when missing.
The feature is so cool that even if the battery of the phone dies before you get a chance? It sent me an email telling me my phone's last-known location. 
Another cool feature available is the theft alerts which are designed to detect any suspicious activities on your device.
Note: You can choose which activities will trigger Theft Alerts, after all, you might not want to receive a Theft Alert every time you turn your phone off.
Kaspersky Security Cloud for free IOS
This cybersecurity app offers the best virtual security network. Kaspersky for iOS is a pretty new offering in recent years, Kaspersky initially stated was that the company does not have plans of making antivirus for Apple devices due to the iOS's internal sandboxing which makes antivirus software redundant.
With the Recent development, Kaspersky developed mobile security for IOS which explains that antivirus is still much needed by IOS users. Because it is important to keep your information private when you're browsing online.
The included VPN only provides 300 MB of daily data. But they have a no-logs policy, which means that even Kaspersky isn't tracking your browsing history.
Free iPhone Antivirus App FAQs
---
Can iPhones get viruses?
As uncommon as it may seem, the iPhone can be attacked by viruses.
Although iPhones are generally safe, if jailbroken, they can become vulnerable to viruses.
Jailbreaking an iPhone is similar to unlocking it – but it's less legitimate. The point here is to gain root privileges that circumvent security restrictions. That normally limits the operation of the software on the device. Apple is having issues with jailbreaking and is trying to fix vulnerabilities in iPhones that make it possible.
The background practice of jailbreaking iPhones gives users more control over the operating system. For example, the ability to customize the appearance of the system. Remove preinstalled apps, and download apps from locations other than the App Store.
You can read more about the iPhone and other tech stuff here.
How to remove a virus from your iPhone.
If your iPhone is infected, here is how you can manually remove viruses from your iPhone:
Remove any apps that you don't recognize or that you downloaded when the problem started.
Clear your data and your history.
Go to "Safari" under "Preferences". Tap Clear History and Website Data.
Press and hold the power supply and slide it to turn off. Then press and hold again to restart. It can solve the problem. If the problem persists, go to step 4.
Restore your phone from a previous backup.
Try older backup versions until you find one that doesn't have the problem and doesn't contain malware.
Restore the factory settings.
If all else fails, factory reset your phone and make sure to back up the files first. To do this, go to "Settings"> "General"> "Reset"> "Erase All Content and Settings".
Does an iPhone need antivirus?
If you wanna get your iPhone safe you need to choose and install the iPhone antivirus.
Can an iPhone get a virus from a website?
Yes, it is. Need to choose websites which you visited carefully. More of them have viruses.
What happens if your iPhone has a virus?
In the easy case, your iPhone will be lagged. In a bad case, your bank account can be hacked. Hackers can steal your money.
How can I check for viruses on my iPhone?
You need to install an iPhone antivirus. Then open the application and choose the option "scan for viruses". After the survey you can see do you have viruses or not.
Why do I get virus warnings on my iPhone?
If you get virus warnings on your iPhone probably you have to get viruses. For check, it needs to open the iPhone antivirus and check it.
Will resetting iPhone get rid of the virus?
Short answer – no. You have only one way. Need to scan your phone for viruses. iPhone antivirus can help you with this problem,
What is the best antivirus for an iPhone?
This is don't exist. Every iPhone antivirus is good in its own way. We do not advertise it. You need to choose it yourself.
Download Best Free iPhone Antivirus Apps In 2021 mp3 file
Thank you for reading!
If you liked this post, check out these too:
---